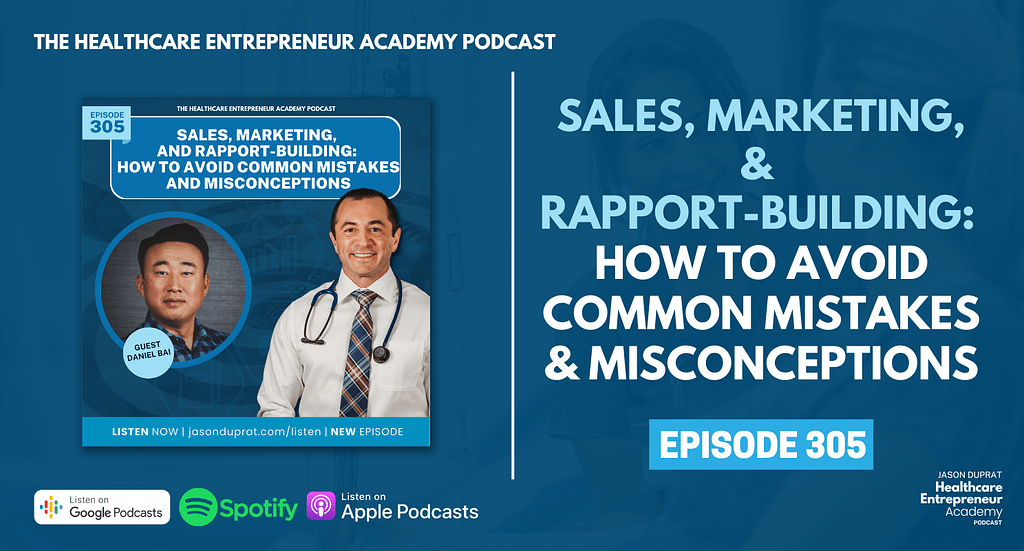 Marketing is not different from Sales, but a subset of it.
Jason A. Duprat, Entrepreneur, Healthcare Practitioner, and Host of the Healthcare Entrepreneur Academy podcast, sits down with Daniel Bai, CEO of CloseForChiro LLC, author, speaker, and thought leader on Sales and Marketing. In this episode, Daniel unravels the common mistakes and misconceptions that people do/have about "Sales," "Marketing," and "Rapport-Building." We'll also hear Daniel's hot take on what Marketing is and isn't about.
3 KEY POINTS:
Look at Marketing from a Sales perspective.

Don't measure Vanity metrics.

Shut up about yourself and ask questions about them.
EPISODE HIGHLIGHTS:
A year into his practice, he came close to quitting because of the amount of rejection he experienced.

He had, what we would call nowadays, a sales problem, "I did not know how to present what I do in an effective, efficient way that's consumable to the clueless member of the public across from me."

The first step toward recovery is realizing you have a problem.

Daniel has hit rock bottom and is sharing his story so that others don't experience the same.

Daniel believes Marketing was a term we gave Sales because Sales is too "uncomfortable."

Marketing is a subset of Sales. We pay money to market and advertise ourselves because we want a return on it.

When you do Marketing from a Sales perspective, you become very specific and problem-oriented. It positions you as a solution to that particular problem.

The only people interested in impressions and vanity metrics are the people who make money on those platforms.

Early on, Daniel learned the concept of STFU – Stop talking about yourself and ask specific questions in a curious and intriguing way where you're actually trying to get down to the bottom of the problem.

Rapport is not "Please like me?" nor "How can I get this person to think I'm awesome?"

Ask open-ended questions that allow the other person to express who they are and say what they want to say.

Take notes from your conversations with clients. Bring those topics back up at the next meeting for them to feel remembered and cared about. 

Nobody closes at 100%. You have to accept that not everyone is going to say yes. If they say no, you may not agree with their decision, but you have to respect it.

"This is not the end all be all. You do not live or die by the answers people give you." – If you approach it like this, there's no pressure to have people say yes.

Based on Alex Hormozi's "The Million Dollar Offer," Daniel mentions "The offer is more accepted if the lead, client, or patient is more tenderized to the fact that you are indeed the solution to that particular problem."

CloseForChiro is a business consulting company specifically for Chiropractors, taking good sales training diversified through all different industries and adapting it for the modern Chiropractor in a correct, ethical, streamlined, and efficient way.

You can reach Daniel and his business through www.closeforchiro.com
TWEETABLE QUOTES:
"Customers have one very selfish need, want, and desire, and that is 'I have a problem, and I've got to know, in the shortest amount of time, is this person a solution to my problem?'" – Daniel Bai

Tweet
"Marketing is a subset of Sales. It's not its own entity. It's the beginning phases of the sales cycle, and if you look at marketing from a Sales perspective, it changes what your Marketing does." – Daniel Bai
CONNECT WITH JASON DUPRAT
LinkedIn | Facebook | Instagram | Youtube
Email: support@jasonduprat.com
Join our Facebook group: https://jasonduprat.com/group
RESOURCES
RELATED EPISODES:
#HealthcareEntrepreneurAcademy #healthcare #HealthcareBoss #entrepreneur #entrepreneurship #podcast #businessgrowth #teamgrowth #digitalbusiness