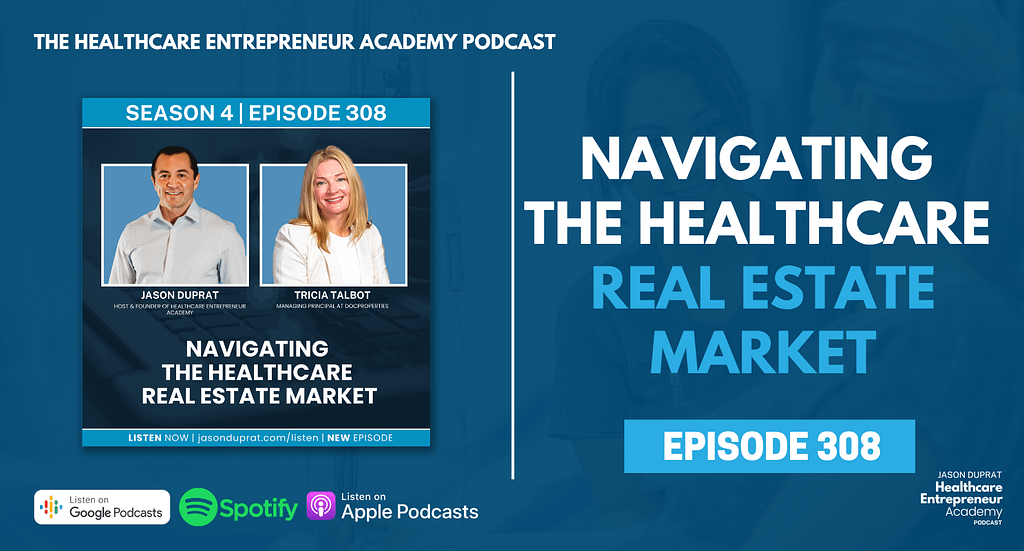 "The wise young man or wage earner of today invests his money in real estate." – Andrew Carnegie.
Jason A. Duprat, Entrepreneur, Healthcare Practitioner, and Host of the Healthcare Entrepreneur Academy podcast, sits down with Trisha Talbot, Founder of Doc Properties and Real Estate Advisor in the Healthcare Space. In this episode, Trisha shares why it's always best to hire a competent Real Estate Professional: To help you make informed decisions, find the best deals, get the most out of your Real Estate, and many more. We also learn that NOT hiring a Real Estate professional backfired for some who chose to take matters into their own hands.
3 KEY POINTS:
Hire Real Estate Professionals who can help you make well-informed Real Estate decisions.

When getting into Real Estate, Hire an Accountant to help you with Tax Strategies.

Never own any Real Estate, even your own residence, in your name.
EPISODE HIGHLIGHTS:
Trisha has always been drawn to the performance-based atmosphere.

She got into commercial Real Estate and worked with a developer that developed medical office buildings. This launched her into her current career.

According to Trisha, one of the best things you can do, especially if you're an entrepreneur owning your own practice, is to own the Real Estate. It offers tax advantage, appreciates, is like another business line, and is safe because you're the tenant in the building.

When you get into Real Estate, have an accountant to help you with tax strategies.

Any time you own a building, you want to have a lease on it. Also, you'd want to pay yourself because the income from that lease is less than paying yourself W2 income which is taxed at a higher rate.

If you buy a building and have to manage tenants, Trisha recommends hiring a Brokerage Firm to lease it out for you because they see more deals and know how to structure negotiations with changing market conditions.

In the Triple Net Lease, since the tenant pays all the expenses, any increase in expenses is theirs to bear.

You should never own a piece of Real Estate, or even your own residence, in your name. There are some Trusts where you can put your assets to protect them from malpractice insurance.

Find a Broker you can work with to make your life easier when looking into purchasing Real Estate properties.

You can reach Trisha through her website, https://docproperties.com/, her email ttalbot@docproperties.com, or her number 480-369-7983.

Trisha does Healthcare Real Estate and helps Clinicians with, typically, their physician-owned Real Estate. She also does Corporate Representation work and tackles the investment side as well.
TWEETABLE QUOTES:
"Before you can really help somebody pick a piece of Real Estate, you need to understand why they need that Real Estate." – Trisha Talbot

Tweet
"You should never own a piece of Real Estate, even your own residence, in your name." – Trisha Talbot

Tweet
CONNECT WITH JASON DUPRAT
LinkedIn | Facebook | Instagram | Youtube
Email: support@jasonduprat.com
Join our Facebook group: https://jasonduprat.com/group
RESOURCES
RELATED EPISODES:
#HealthcareEntrepreneurAcademy #healthcare #HealthcareBoss #entrepreneur #entrepreneurship #podcast #businessgrowth #teamgrowth #digitalbusiness