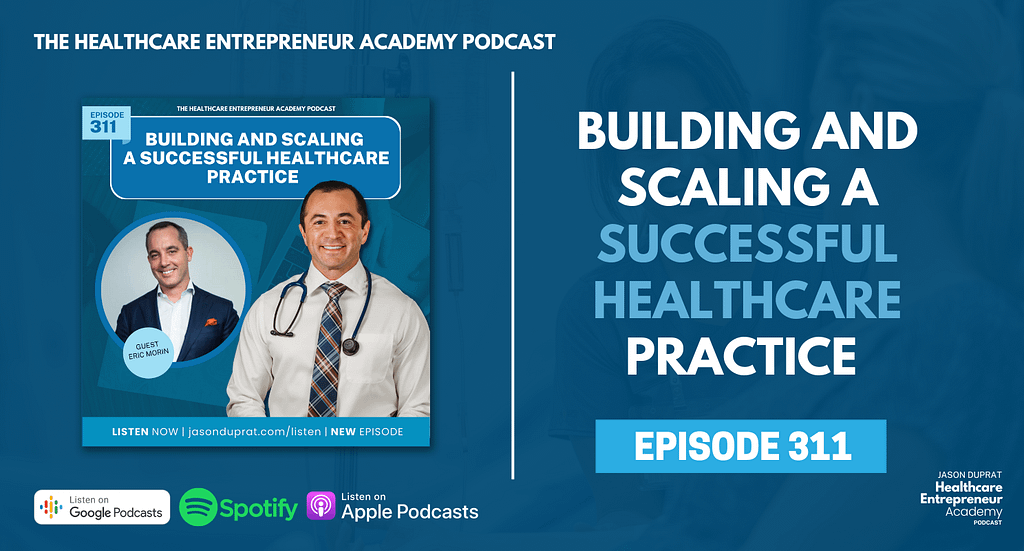 OVERVIEW:
"You don't build a business. You build people, then people build the business." – Zig Ziglar
Jason A. Duprat, Entrepreneur, Healthcare Practitioner, and Host of the Healthcare Entrepreneur Academy podcast, sits down with Eric Morin, Wealth and Business coach, Forbes Speaker, Author, and CEO & Founder of Tower Leadership. Eric's passion and wisdom for business are like no other, with expertise able to scale businesses up to tenfold in revenue. In this episode, we dive into the mind of this business expert, his story of becoming one, and his timeless advice for healthcare entrepreneurs.
3 KEY POINTS:
Hire great talent and build great teams who can run the show.

Solidify your business' Executive and Operations roles.

Reflect on "Why" you need to scale your business and build a financial strategy around that.
EPISODE HIGHLIGHTS:
Eric is an entrepreneur by nature and has always had a passion for business.

He did consulting work for companies with up to $20 million in Revenue by himself.

When he started a Dental Practice, he grew and scaled it so quickly that specialists asked him to help other general practitioners.

They've taken people from $9 million to $100 million in revenue in 12 months.

He considers taking his passion for business, finance, and math to help people grow to be "a lot of fun."

During their start-up stages, he would focus on the business aspects while his wife, a Dentist, would focus on all the medicine.

As a start-up, they focused on two things:

Pre-marketing to make sure they had patients lined up before opening the practice

Assembling ang great team.

Large company leaders think, "How do assemble the best team?" while smaller company leaders try to do everything themselves, significantly hindering a business' scaling pace.

For Eric, the thing that attracts great talent is the opportunity to show their capabilities and build their future. Get your team excited to go with you by finding out and giving what they want and showing them where their future is headed.

When getting a business partner, you must know that person, their paradigm, and their financial strategies.

There are only two reasons to give up equity: Capabilities or Capital

Does this person bring capital to the table?

Do they have capabilities or knowledge you don't have?

The Executive and Operations Roles must be 100% solid and locked in for a business to scale.

So many healthcare practices that scale do not track what made them great.

Eric's method for scaling a business is first to identify "why" you want to scale, then to create a financial strategy around that.

As capital rises, Growth Eats Cash. As you grow, it requires more cash, and you'll need a cash flow management strategy.

Leadership teams in organizations can use scorecards to measure key metrics and determine whether the practice is on pace.

Eric mentions the book "Measure What Matters" by John Doerr, which talks about systems such as OKRs that have integral in large organizations.

Eric's business, Tower Leadership, works with healthcare entrepreneurs who have hit a roadblock and are trying to grow and scale.
TWEETABLE QUOTES:
"Past success doesn't always equate to future success." – Eric Morin

Tweet
"There are only two reasons that you should ever give up equity: Capabilities or Capital." – Eric Morin

Tweet
CONNECT WITH JASON DUPRAT:
LinkedIn | Facebook | Instagram | Youtube | Facebook Group
RESOURCES:
Sign up for one of our free business start-up Masterclasses by heading over to https://healthcareboss.org/masterclass/
Have a healthcare business question? Text me at 386-284-4955, and I'll add you to my contacts. Occasionally, I'll share important announcements and answer your questions as well.
Do you enjoy our podcast? Leave a rating and review: https://lovethepodcast.com/hea
RELATED EPISODES:
#HealthcareEntrepreneurAcademy #healthcare #HealthcareBoss #entrepreneur #entrepreneurship #podcast #businessgrowth #teamgrowth #digitalbusiness