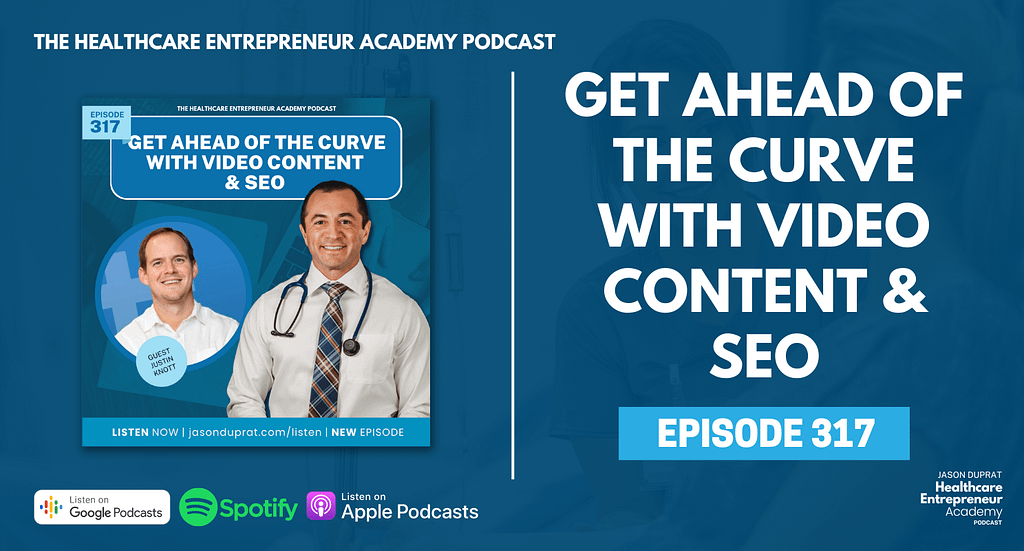 OVERVIEW:
"It's important to remember your competitor is only one mouse click away." – Douglas Warner III
Jason A. Duprat, Entrepreneur, Healthcare Practitioner, and Host of the Healthcare Entrepreneur Academy podcast, sits down with Justin Knott, CEO of Intrepy, a Healthcare Marketing Organization, and Host of the Patient Convert Podcast. In this episode, we dive into Justin's expertise in Marketing Strategy, Search Engine Optimization, and Paid Ads. He shares valuable tips on webpage creation, content creation, and many more. Tune in to learn how to get ahead of your competitors!
3 KEY POINTS:
Create unique content that brings you ahead of the game.
Plan a month ahead. Your time is worth more money than anything else.
Maximize SEO to your advantage.
EPISODE HIGHLIGHTS:
Justin is the CEO of the company and is running the day-to-day operations of their business, while Kelly, his wife, is the president and co-founder, focusing on content creation and helping Justin develop their sales pipeline.
"Google My Business" is foundational for ranking in the top three for the conditions, treatments, and surgeries you provide. If you want to rank for it, you need a page.
If you don't create unique content that gives you a fighting chance against your competitors, you're already way behind.
According to Justin, when maximizing Search Engine Optimization (SEO), an example is putting 2,000 words on your page to get it to rank. However, focusing 100% on SEO sacrifices your page's web development, web design, and UX design aspects, and it may result in something not so enticing for your audiences to read.
There are two good ways to remedy this. One is relying on Video content as it can help you rank and increases your consumers' page time while watching the video.
Another workaround is to use Accordion-Style FAQs to your advantage, wherein you move a lot of content down the page without them overloading.
When creating your page, the two most important things to include in a title tag are "What you do" and "Where you're at."
The second most important piece is the H1 tag, typically a big, bold page title.
After these, it all comes down to what the readers will see when they read your page.
To maximize SEO for your page, ensure you have good section headers, as they're what Google Crawlers observe when scanning your page.
If you're creating video content, you're ahead of the game. Many competitors generally never venture into video content because they "over-complicate."
When starting something, don't overthink it, and keep it simple. Example: When creating video content, buy simple equipment, just the bare minimum of what you need. Not overthinking things means you're more likely to get it done.
For video content, Justin highly recommends hosting on YouTube. It's the second-largest search engine and is owned by Google.
Entering the top 3 Google Search Rankings should be your focus. 80-90% of all organic search clicks are pulled from the top 3 search results.
Backlinks are links on any website that's not yours that point back to your page. They help build domain authority quickly by showing Google that other pages trust your page enough to provide your link on their page.
Feel free to connect with Justin Knott on LinkedIn.
If you need marketing assistance, visit www.intrepy.com to connect with their agency.
They have a podcast called Patient Convert Podcast.
They also have a free practice assessment. If you're trying to figure out where you're struggling to add value or how you can grow in 2023, consider booking a call with Justin.
TWEETABLE QUOTES:
"If you're doing video, you're ahead of the game. A lot of physicians, surgeons, practices in general never get started on video because they way overcomplicate it." – Justin Knott

Tweet
"Plan a month ahead. That's probably the biggest thing that I encourage physicians. Your schedule is crazier than anybody else's, and your time is worth more money than anybody else's." – Justin Knott

Tweet
CONNECT WITH JASON DUPRAT:
LinkedIn | Facebook | Instagram | Youtube | Facebook Group
RESOURCES:
Sign up for one of our free business start-up Masterclasses by heading over to https://healthcareboss.org/masterclass/
Have a healthcare business question? Text me at 386-284-4955, and I'll add you to my contacts. Occasionally, I'll share important announcements and answer your questions as well.
Do you enjoy our podcast? Leave a rating and review: https://lovethepodcast.com/hea
RELATED EPISODES:
#HealthcareEntrepreneurAcademy #healthcare #HealthcareBoss #entrepreneur #entrepreneurship #podcast #businessgrowth #teamgrowth #digitalbusiness