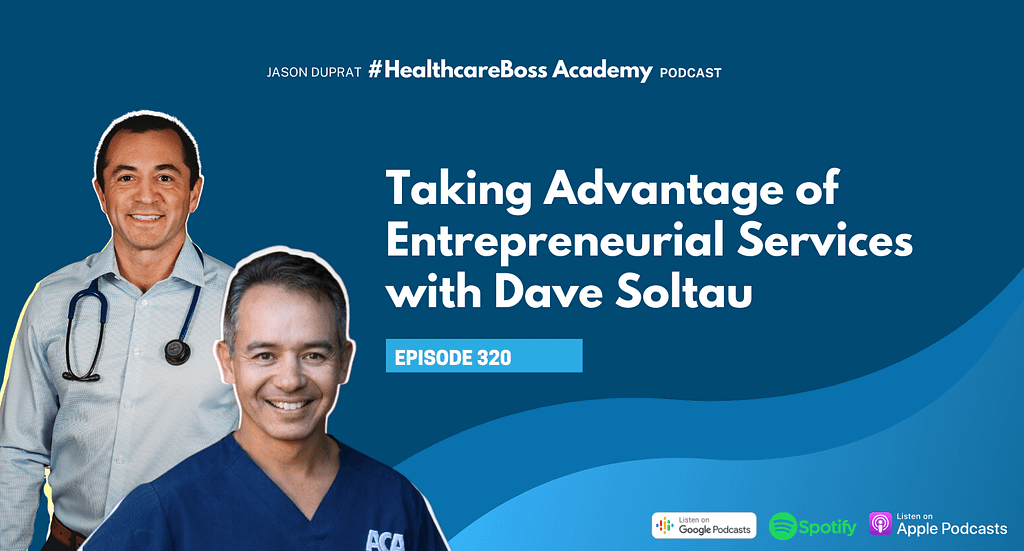 OVERVIEW:
"It's fine to celebrate success, but it is more important to heed the lessons of failure." — Bill Gates
Jason A. Duprat, Entrepreneur, Healthcare Practitioner, and Host of the Healthcare Boss Academy podcast, sits down with Dave Soltau, Co-Founder of Advanced Clinical Associates & A.C.A. Wellness Institute, Public Speaker, and Author of "The Student Entrepreneur." With multiple decades of experience in entrepreneurship and the people business, Dave has gone through both hardships and historical success in his career. Tune into this episode to learn more about his journey and hear his advice for starting.
EPISODE HIGHLIGHTS:
Chasing "shiny objects" are always exciting, but the problem is that you'll always be starting from scratch with each new thing you chase.
If you build your business from scratch, it will take a long time. However, if you buy an existing business, you may be buying a problem or an established potential success that tired owners have let go of.
If a business relies on keeping a patient healthy, when that patient passes away, that business will die down along with them. It's safer to have a larger volume of clients over one or two that generate a lot of money.
Your greatest assets are the essential people in your company who you put in the right seats.
Many entrepreneurs stop in their tracks due to several possible reasons. One big reason could be the failure to reach the R.O.I. they envisioned.
Mission first, people always. As long as you're taking good care of great people, there's no reason why you can't excel in this industry.
To contact Dave, please visit their website at advancedclinicalaz.com or email him at dave@advancedclinicalaz.com. He is always available on LinkedIn, Facebook, and Instagram.
TWEETABLE QUOTES:
"The most interesting part about starting businesses is how many times you fail before you succeed, but when you finally do succeed, it's typically and historically a good success." — Dave Soltau

Tweet
"We know what we don't know, and it's okay. We don't make a big deal about it. We recognize when we don't know something, we roll with it, we fix it, and we go from there." — Dave Soltau

Tweet
CONNECT WITH JASON DUPRAT:
LinkedIn | Facebook | Instagram | YouTube | Facebook Group
RESOURCES:
Sign up for one of our free business start-up Masterclasses at https://jasonduprat.com/freemasterclass
Have a healthcare business question? Text me at 407-972-0084, and I'll add you to my contacts. Occasionally, I'll share important announcements and answer your questions as well.
Do you enjoy our podcast? Leave a rating and review: https://lovethepodcast.com/hea
RELATED EPISODES:
#HealthcareEntrepreneurAcademy #healthcare #HealthcareBoss #entrepreneur #entrepreneurship #podcast #businessgrowth #teamgrowth #digitalbusiness