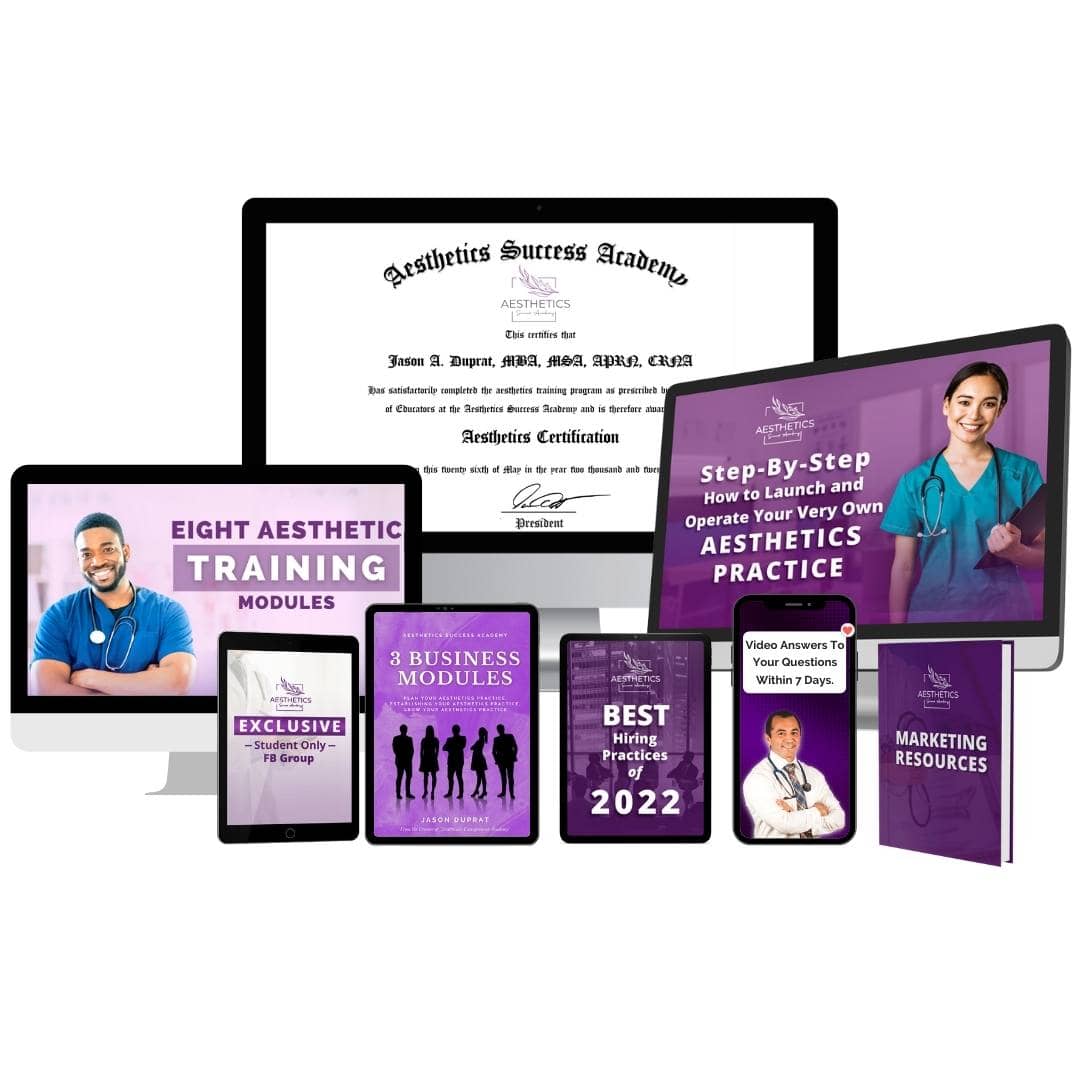 AESTHETICS SUCCESS ACADEMY
This is our most requested course to date!
Complete the form below to be the first to get notified about our BETA launch!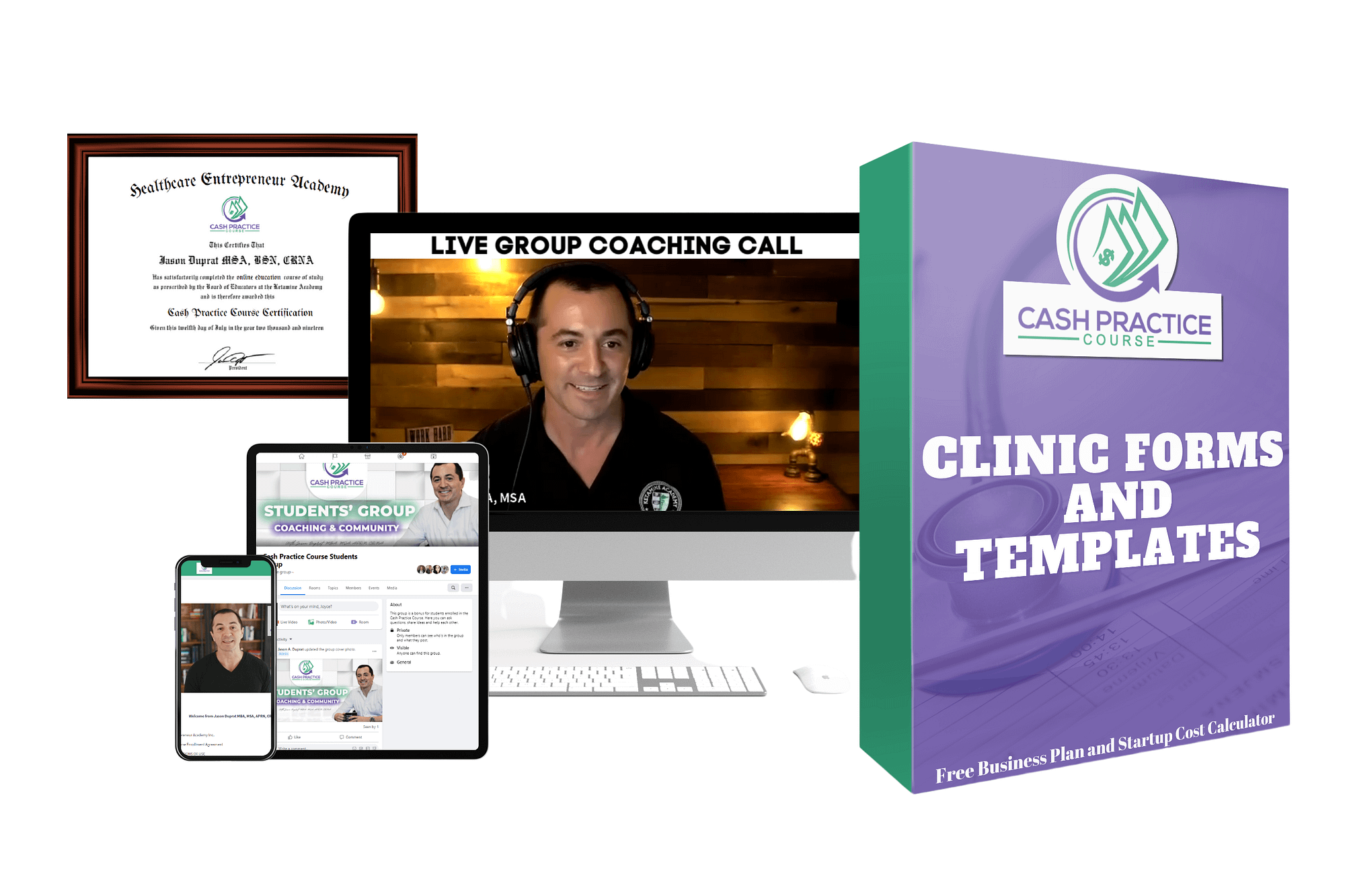 KETAMINE
INFUSION THERAPY

COURSE

As the founder of my own ketamine clinic, anesthesia provider and course developer, I can assure you that the content I have included in this course relies upon rich academic, clinical and business experience. The content in this course adheres to the guidelines and recommendations published by The American Psychiatric Association, The American Society of Anesthesiologists, The American Association of Nurse Anesthetists and The American Society of Ketamine Physicians.

The Ketamine Infusion Therapy Program by Ketamine Academy is a comprehensive online program that combines theory with knowledge gained from practicing within my own ketamine clinic. I have included all major aspects of ketamine therapy that have practical clinical value. In this course you will learn step-by-step how to start and grow your own ketamine infusion clinic. The information contained in this course is also highly valuable for those practitioners who already have a practice and would like to learn how to add ketamine infusion therapy to their existing practice.
INTRAVENOUS
NUTRITIONAL THERAPY

COURSE

Jason Duprat, MBA, MSA, BSN CRNA worked diligently with Katherine Devine, MSN, CNP, who is a national leader in IV Nutritional Therapy to develop cutting edge course content that relies upon rich academic and clinical practice experience.

Our Intravenous Nutrient Therapy Courses are comprehensive programs that combine theory with clinical application. We have included all major aspects of micronutrient therapy that have practical clinical value for the novice IV Therapy practitioner. The teaching approach is derived from clinical expertise and the scientific research behind parenteral nutrition therapy.

Our IV Nutrient Therapy Program is one of the only standardized, comprehensive, CE approved online training programs available in the world. This program is designed for healthcare personnel such as Doctors of Oriental Medicine, Medical Physicians, Osteopathic Physicians, Nurse Practitioners, Naturopathic Physicians, Nurses and Physician Assistants.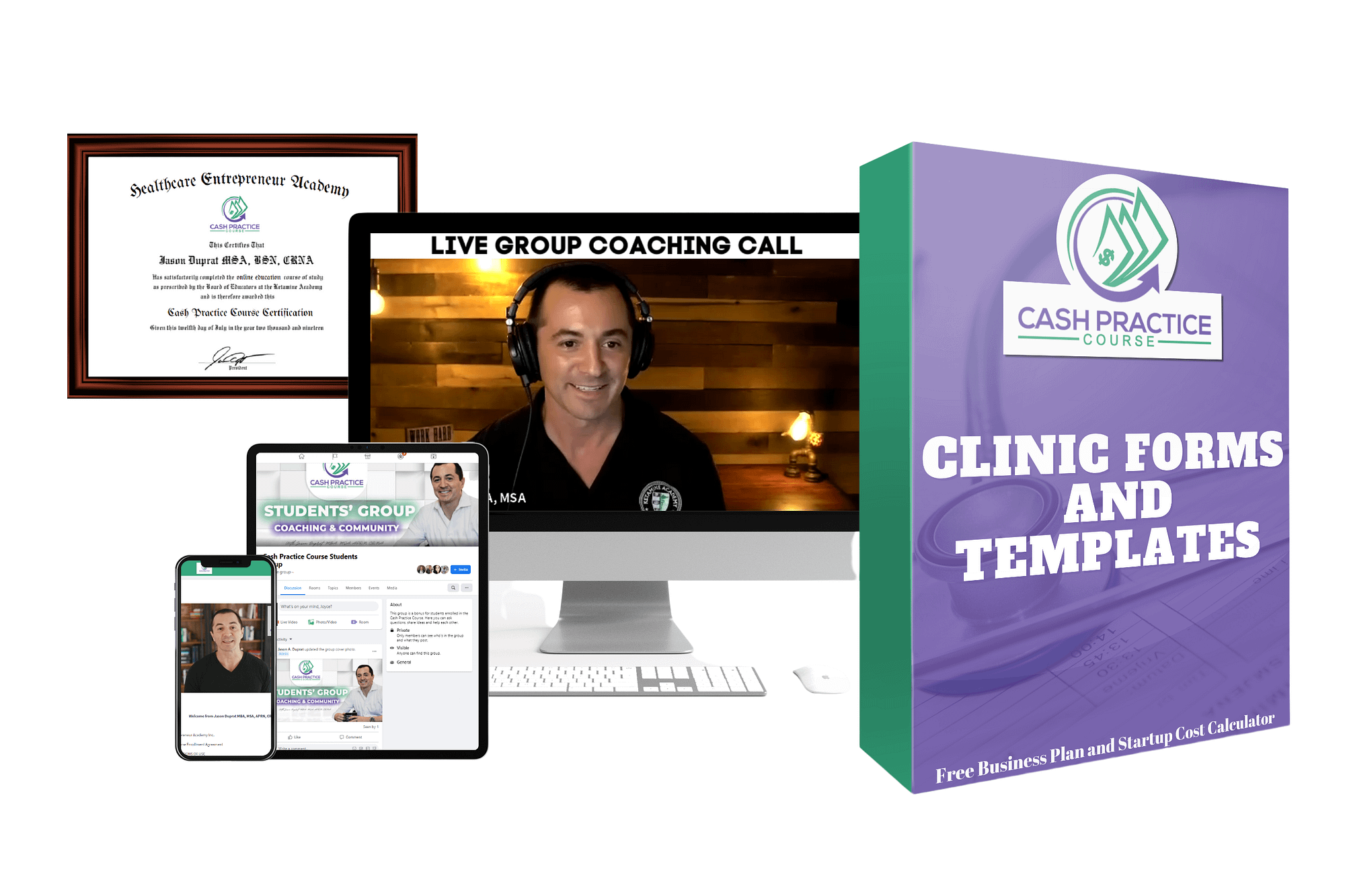 CASH PRACTICE COURSE
A complete step-by-step program designed to show you how to setup a clinic from scratch even if you have no business experience. You will get to learn about some of the most in demand cash-based services such as Direct Primary Care, Testosterone Replacement Therapy, Aesthetics, Peptide Therapy, IV Nutritional Therapy, Ketamine Therapy, Medical Weight Loss and Stem Cells.
Jason Duprat, MBA, MSA, BSN CRNA has build this course on real-world experience. It's not only what he's learned from running his own successful clinic, but it's the accumulated knowledge and success of the 1,000+ students he's worked with to help start their clinics.
You'll be learning from instructors who have already built successful clinics with various specialties to help you avoid the costly mistakes and pitfalls most new clinic owners make while accelerating your path to success and freedom. Plus get exclusive tuition discounts on speciality and advanced courses.
This program is designed for healthcare professionals such as Medical Physicians, Doctors of Oriental Medicine, Osteopathic Physicians, Nurse Practitioners, Naturopathic Physicians, Nurses and Physician Assistants.
COURSE
CREATOR

ACADEMY

The internet has revolutionized the possibilities in business and healthcare is no different. More and more healthcare professionals are giving up physical locations or the idea that you need to be tied to a single spot and opting to move their business online.
The biggest opportunity right now is online education. It doesn't matter if you're trying to teach people how to live a healthier life or teaching other healthcare professionals how to take the next step in their careers, there's a market for just about everything.

After creating and selling multiple online courses for the past three years, I'm packaging up everything I've learned to teach you how to do the same. We're currently in the middle of our beta cohort, but if you'd like to be notified when enrollment opens again click the button below.