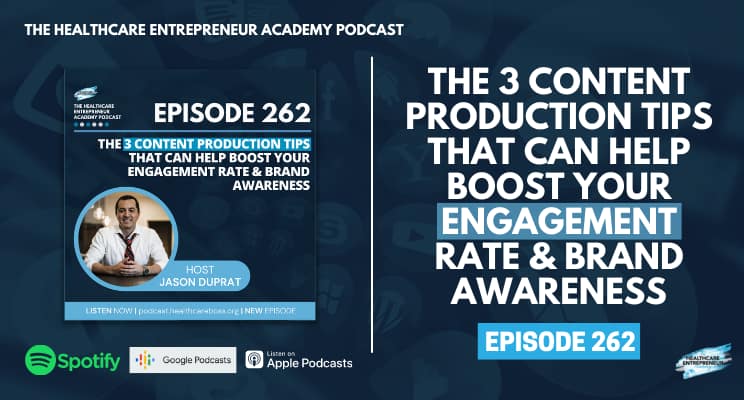 Identity, Quantity, and Quality.
Jason A. Duprat, Entrepreneur, Healthcare Practitioner, and Host of the Healthcare Entrepreneur Academy podcast, expounds on these three valuable aspects of content creation. If you're a budding or long-time content creator who wants to maximize engagement and know how to leverage your content for your business, tune into this episode.
Check out this episode on Apple Podcasts and Spotify!
EPISODE HIGHLIGHTS
– People listen more to those who with results and who can demonstrate their expertise.
– Frame your content to present you as an authority in your field.
– It's all about volume. Put out more relevant content consistently across different platforms.
– Most content creators get discouraged early on and discontinue, but stick with your content long enough, and you'll eventually gain traction.
– Put out valuable content. Keep on giving without expecting anything in return.
– As course creators, keep 5% of your most valuable content exclusive, but still have some available for free.
– If they see value from your free content, they'll be more likely to consider your paid content.
– Make sure your content is serving who you're trying to attract.
3 KEY POINTS
Identity: Start with who you are and why people should listen to you.
Quantity: Scale up your production.
Quality: Put out valuable content.
JOIN OUR GIVEAWAY!
Get a chance to win a FREE strategy session with Jason Duprat! Be one of the 5 lucky winners to win a strategy call with Jason where he answers all your burning questions about your healthcare business.
To join the podcast giveaway, follow these 3 easy steps:
Step 1: All you have to do is leave a review for The Healthcare Entrepreneur Academy Podcast on https://lovethepodcast.com/hea
Step 2: Take a screenshot of your review/rating.
Step 3: Submit the screenshot through this form: https://bit.ly/HEAGIVEAWAY.
…and you're done! FIVE lucky winners will be selected at random and announced through the Healthcare Entrepreneur Academy Facebook group and the newsletter! Bonus: Plus points if you share your screenshot on your stories and tag Jason Duprat with the hashtag #HEAGiveaway!
TWEETABLE QUOTES
"People listen to those who deliver results. Frame your content in a way that presents you as an authority in your field" — Jason A. Duprat
"Most content creators get discouraged early on by lack of numbers. However, I stick with your content long enough, and you'll eventually gain traction." — Jason A. Duprat
CONNECT WITH JASON DUPRAT
LinkedIn | Facebook | Instagram | Youtube
Email: support@jasonduprat.com
RESOURCES
Want to become a Ketamine Therapy provider? Enroll NOW in The Ketamine Academy course: https://www.ketamineprofessionals.com/podcast
Have a healthcare business question? Want to request a podcast topic? Text me at 407-972-0084 and I'll add you to my contacts. Occasionally, I'll share important announcements and answer your questions as well. I'm excited to connect with you!
Do you enjoy our podcast? Leave a rating and review: https://lovethepodcast.com/hea
Don't want to miss an episode? Subscribe and follow: https://followthepodcast.com/hea
#HealthcareEntrepreneurAcademy #healthcare #HealthcareBoss #entrepreneur #entrepreneurship #podcast #businessgrowth #teamgrowth #digitalbusiness