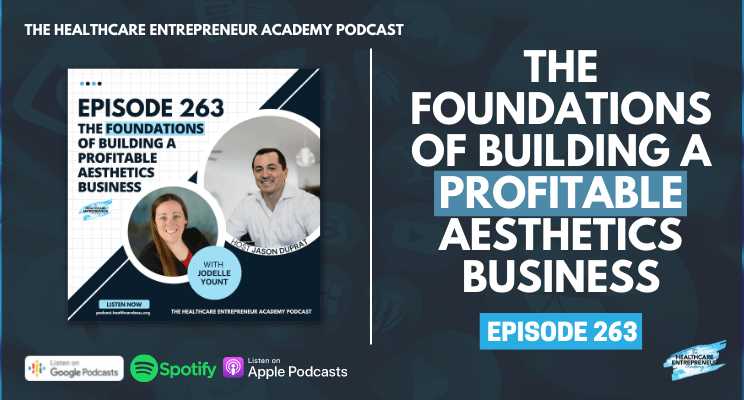 Know your service.
Know your market.
Jason A. Duprat, Entrepreneur, Healthcare Practitioner, and Host of the Healthcare Entrepreneur Academy podcast, sits down with Jodelle Yount, Doctor of Osteopathic Medicine, Host of the "Feed Your L.I.O.N." Podcast, Published Author of "When the Rain Comes", and Owner of LEO Health and Wellness along with other healthcare businesses. In today's episode, Jodelle shares her entrepreneurial stories, from building her first business from the ground up to building several others, and shares timeless advice for those aspiring to do the same.
EPISODE HIGHLIGHTS
Jodelle shares her story about being introduced to the aesthetics business when getting a tattoo.
Speaking from experience, Jodelle's advice for new entrepreneurs is to learn something before venturing into it.
They started with laser tattoo removal and worked their way to multiple businesses with more than 45 services, including laser hair removal, botox injections, bio-identical hormones, medical marijuana, telemedicine, and many more.
Jodelle's podcast, "Feed Your L.I.O.N.", focuses on Total Health covering Physical, Mental, Emotional, Spiritual, and Financial Health
Be the first to offer whatever's in-demand. If you don't know how to do it, hire someone who does.
Maximize your social media presence, but don't overthink it. Your posts don't have to be perfect.
Do your market research on your location: what service is in-demand, the competition, the difficulty in setting up the business.
Don't make any big purchases right off the bat. There are cheaper alternatives.
Jodelle also discusses her passion towards Real Estate and the value it brings.
Jason & Jodelle share about a brand new program they're collaborating on called the Aesthetics Success Academy.
3 KEY POINTS
Know your service.
Know your market.
Know how you can market your service and service your market.
TWEETABLE QUOTES
"Invest in Marketing. Best known always beats best product." – Jodelle Yount
"Looking back, I wouldn't change anything, because even the stupid stuff I did helped me learn and grow. I needed those steps to get me to the next place." – Jodelle Yount
CONNECT WITH JASON DUPRAT
LinkedIn | Facebook | Instagram | Youtube
Email: support@jasonduprat.com
RESOURCES
Want to become an IV Nutritional Therapy provider? JOIN our FREE masterclass: https://www.ivtherapyacademy.com/podcast
Have a healthcare business question? Want to request a podcast topic? Text me at 407-972-0084 and I'll add you to my contacts. Occasionally, I'll share important announcements and answer your questions as well. I'm excited to connect with you!
Do you enjoy our podcast? Leave a rating and review: https://lovethepodcast.com/hea
Don't want to miss an episode? Subscribe and follow: https://followthepodcast.com/hea
#HealthcareEntrepreneurAcademy #healthcare #HealthcareBoss #entrepreneur #entrepreneurship #podcast #businessgrowth #teamgrowth #digitalbusiness