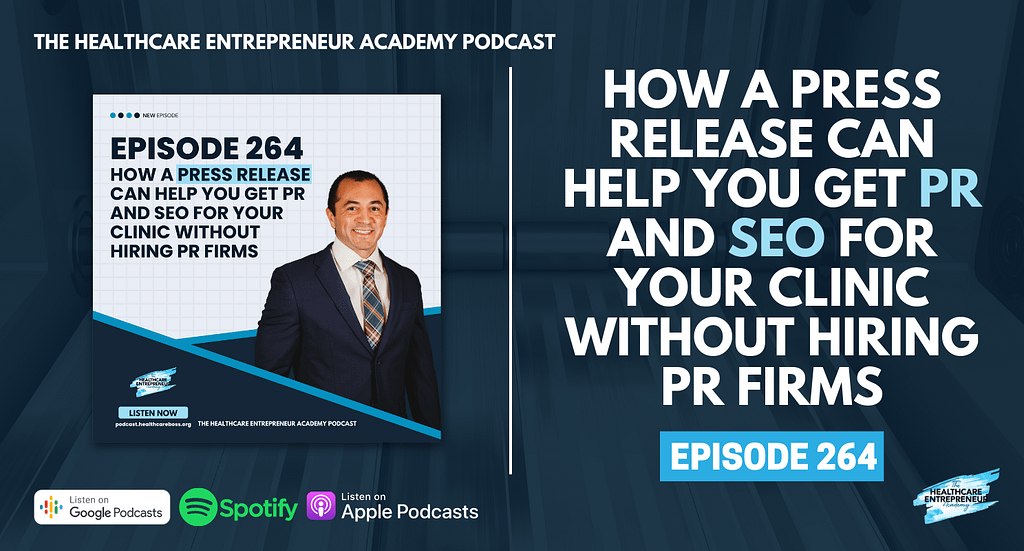 Hiring others to boost your brand costs a fortune, so why not do it yourself?
As promised during last week's Tactical Tuesday, Jason A. Duprat, Entrepreneur, Healthcare Practitioner, and Host of the Healthcare Entrepreneur Academy podcast, reveals an insider secret large organizations use to boost their brand: Press Releases. Tune into this episode to learn more about how this tactic can help improve your SEO and save you a fortune.
Check out this episode on Apple Podcasts or Spotify!
EPISODE HIGHLIGHTS
– Coordinating with PR Companies to boost your brand is expensive and almost always comes with no guarantees unless you do it yourself.
– The idea behind PR is to use 3rd-party press and news stories to have your business featured in various media outlets.
– Look up how to write press releases then submit your entries through press release websites that distribute them for you.
– Backlinks are links to your website. The more articles you release, the more backlinks you get, and the more backlinks you get from high-ranking, high-domain authority sites, the better your website will rank.
– Reporters may encounter these press releases and decide to go deeper into the story, turning into 3rd-party stories with more weight.
– Some press release websites Jason recommends are newswire.com, globenewswire.com, prnewswire.com, and marketersmedia.com.
3 KEY POINTS
Boost your brand through Press Releases.
Look up press release templates and submit articles through press release websites.
Release more articles, gain more backlinks, and boost your ranking.
TWEETABLE QUOTES
"Writing press releases is an insider secret not many people know about, but can greatly help any business." – Jason A. Duprat
"If the service is too expensive, learn how to do it yourself." – Jason A. Duprat
CONNECT WITH JASON DUPRAT
LinkedIn | Facebook | Instagram | Youtube
Email: support@jasonduprat.com
JOIN OUR GIVEAWAY!
Get a chance to win a FREE strategy session with Jason Duprat! Be one of the 5 lucky winners to win a strategy call with Jason where he answers all your burning questions about your healthcare business. To join the podcast giveaway, follow these 3 easy steps:
Step 1: All you have to do is leave a review for The Healthcare Entrepreneur Academy Podcast on https://lovethepodcast.com/hea
Step 2: Take a screenshot of your review/rating.
Step 3: Submit the screenshot through this form: https://bit.ly/HEAGIVEAWAY.
…and you're done! FIVE lucky winners will be selected at random and announced through the Healthcare Entrepreneur Academy Facebook group and the newsletter! Bonus: Plus points if you share your screenshot on your stories and tag Jason Duprat with the hashtag #HEAGiveaway!
RESOURCES
Want to become a Ketamine Therapy provider? Enroll NOW in The Ketamine Academy course: https://www.ketamineprofessionals.com/podcast
Have a healthcare business question? Want to request a podcast topic? Text me at 407-972-0084 and I'll add you to my contacts. Occasionally, I'll share important announcements and answer your questions as well. I'm excited to connect with you!
Do you enjoy our podcast? Leave a rating and review: https://lovethepodcast.com/hea
Don't want to miss an episode? Subscribe and follow: https://followthepodcast.com/hea
#HealthcareEntrepreneurAcademy #healthcare #HealthcareBoss #entrepreneur #entrepreneurship #podcast #businessgrowth #teamgrowth #digitalbusiness