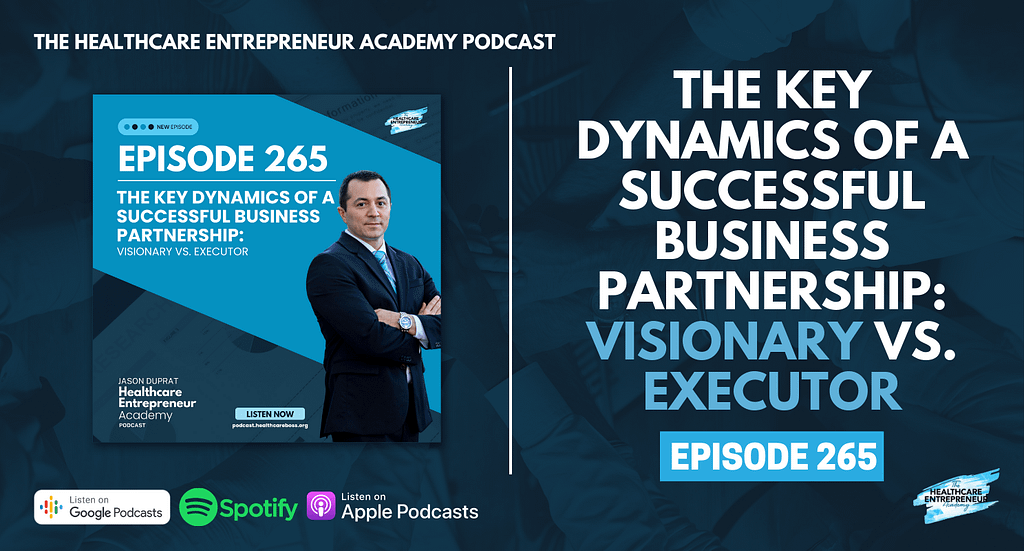 Marketing or Operations-centered.
What type of entrepreneur are you?
Jason A. Duprat, Entrepreneur, Healthcare Practitioner, and Host of the Healthcare Entrepreneur Academy podcast, talks about partnerships and how businesses can grow exponentially with leaders whose skills complement each other perfectly. Tune in to learn more about partners who thrived in their careers and decide whether the partnership route is for you or not.
You can also listen on Apple Podcasts or Spotify.
EPISODE HIGHLIGHTS
Partner with people with qualities that complement yours.
Tai Lopez & Alex Mehr partnered with the extrovert-introvert dynamic; one on marketing and one on operations.
Russel Brunson & Todd Dickerson's partnership soared well despite not fitting the extrovert-introvert dynamic.
Another great pair is Steve Jobs & Steve Wozniak. Jobs' Marketing skills helped Apple dominate while Wozniak perfected the products behind the scenes.
In these examples, one of two leaders is either the Dominant Marketer or the Doer/Executor.
In a party of three, a possible addition would be the Financer.
Figure out what skills you possess and how each of your strengths can help build each other up for exponential growth.
Build deep connections with your partners. A lot of business partners have been friends for years before starting a business
3 KEY POINTS
Figure out what skills/qualities you have as well as those you lack.
Work with partners whose skills and qualities complement yours.
Build deep connections with your partners.
JOIN OUR GIVEAWAY!
Get a chance to win a FREE 30-DAY VIP access to Jason Duprat via Voxer!
Be one of the 5 lucky winners to win a strategy call with Jason where he answers all your burning questions about your healthcare business. To join the podcast giveaway, follow these 3 easy steps:
Step 1: Leave a review for The Healthcare Entrepreneur Academy Podcast on https://lovethepodcast.com/hea
Step 2: Take a screenshot of your review/rating.
Step 3: Submit the screenshot through this form: https://bit.ly/HEAGIVEAWAY.
…and you're done! FIVE lucky winners will be selected at random and announced through the Healthcare Entrepreneur Academy Facebook group and the newsletter! Bonus: Plus points if you share your screenshot on your stories and tag Jason Duprat with the hashtag #HEAGiveaway!
TWEETABLE QUOTES
"The best partnerships work to fill each other's voids." – Jason A. Duprat
"When hiring more people, the piece of the pie is going to get smaller, but the actual pie could grow exponentially." – Jason A Duprat
CONNECT WITH JASON DUPRAT
LinkedIn | Facebook | Instagram | Youtube
Email: support@jasonduprat.com
RESOURCES
Want to become an IV Nutritional Therapy provider? JOIN our FREE masterclass: https://www.ivtherapyacademy.com/podcast
Have a healthcare business question? Want to request a podcast topic? Text me at 407-972-0084 and I'll add you to my contacts. Occasionally, I'll share important announcements and answer your questions as well. I'm excited to connect with you!
Do you enjoy our podcast? Leave a rating and review: https://lovethepodcast.com/hea 
Don't want to miss an episode? Subscribe and follow: https://followthepodcast.com/hea 
#HealthcareEntrepreneurAcademy #healthcare #HealthcareBoss #entrepreneur #entrepreneurship #podcast #businessgrowth #teamgrowth #digitalbusiness