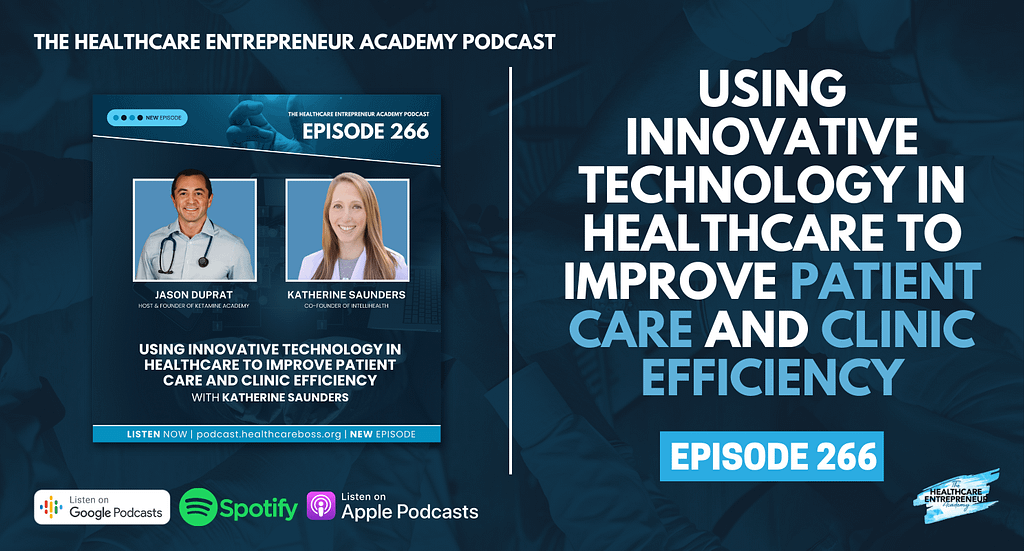 Obesity is a disease.
It's not just a lifestyle issue.
Jason A. Duprat, Entrepreneur, Healthcare Practitioner, and Host of the Healthcare Entrepreneur Academy podcast, sits down with Katherine Saunders, Co-Founder of Intellihealth, Diplomat of the American Board of Internal Medicine and the American Board of Obesity Medicine, and Host of the Weight Matters Podcast. Join us in this episode as we debunk the long-standing stigma surrounding obesity and learn more about Katherine and Intellihealth's mission to bring accessible medical obesity care for all.
EPISODE HIGHLIGHTS
Serving as a Primary Care physician, Katherine was overwhelmed with her patients' weight-related diseases which inspired her to pursue Obesity Medicine.
Katherine's mentor had a predecessor company which she and her husband transitioned into Intellihealth, wherein they aim to democratize effective obesity treatment.
Science and research show that obesity is a disease and not just a lifestyle issue.
Physiological and pathophysiological changes occur with excess weight that make it very difficult to lose weight and easy to gain weight.
Obesity Medicine is a newer field of medicine. There are only under 6,000 physicians who are certified in Obesity Medicine, which is astoundingly low considering how rampant obesity is in America.
The cornerstone of the field is dietary strategies, physical activity, and behavioral change. Medications come in only after comprehensive evaluations and needs assessments.
Katherine mentions the American Board of Obesity Medicine, Obesity Medicine Associate, and conferences available to learn more about the field.
She works closely with Software Developers in Intellihealth, combining two vastly different fields to make Obesity Medicine more accessible for all.
One of their goals is to break the stigma, to educate people that obesity is a disease and not dependent on willpower alone.
JOIN OUR GIVEAWAY!
Get a chance to win a FREE 30-DAY VIP access to Jason Duprat via Voxer! Be one of the 5 lucky winners to win a strategy call with Jason where he answers all your burning questions about your healthcare business. To join the podcast giveaway, follow these 3 easy steps:
*Step 1: Leave a review for The Healthcare Entrepreneur Academy Podcast on https://lovethepodcast.com/hea
*Step 2: Take a screenshot of your review/rating.
*Step 3: Submit the screenshot through this form: https://bit.ly/HEAGIVEAWAY.
…and you're done! FIVE lucky winners will be selected at random and announced through the Healthcare Entrepreneur Academy Facebook group and the newsletter!
3 KEY POINTS
Obesity is a disease and not just a lifestyle issue.
Medicine and Technology work hand-in-hand in bringing healthcare to the world.
One of Obesity Medicine's goals is to break the stigma around it.
TWEETABLE QUOTES
"Obesity is a disease. It's not just a lifestyle issue." – Katherine Saunders
"When you factor in how fast technology is evolving, the future of medicine is extremely bright." – Jason Duprat
RESOURCES
Want to become a Ketamine Therapy provider? Enroll NOW in The Ketamine Academy course: ketamineacademy.com/presentation
Have a healthcare business question? Want to request a podcast topic? Text me at 407-972-0084 and I'll add you to my contacts. Occasionally, I'll share important announcements and answer your questions as well. I'm excited to connect with you!
Do you enjoy our podcast? Leave a rating and review: https://lovethepodcast.com/hea 
Don't want to miss an episode? Subscribe and follow: https://followthepodcast.com/hea
ABOUT THE GUEST
Katherine Saunders, MD, is an Assistant Attending Physician at New York-Presbyterian Hospital and hosts the Weight Matters podcast. She is also the Co-Founder of Intellihealth, an organization that provides technology to help healthcare systems provide medical obesity care. Katherine specializes in the care of patients with obesity and weight-related medical complications. Her areas of expertise include advanced medical approaches to obesity and strategies to counteract medication-induced weight gain.
CONNECT WITH THE GUEST
#HealthcareEntrepreneurAcademy #healthcare #HealthcareBoss #entrepreneur #entrepreneurship #podcast #businessgrowth #teamgrowth #digitalbusiness