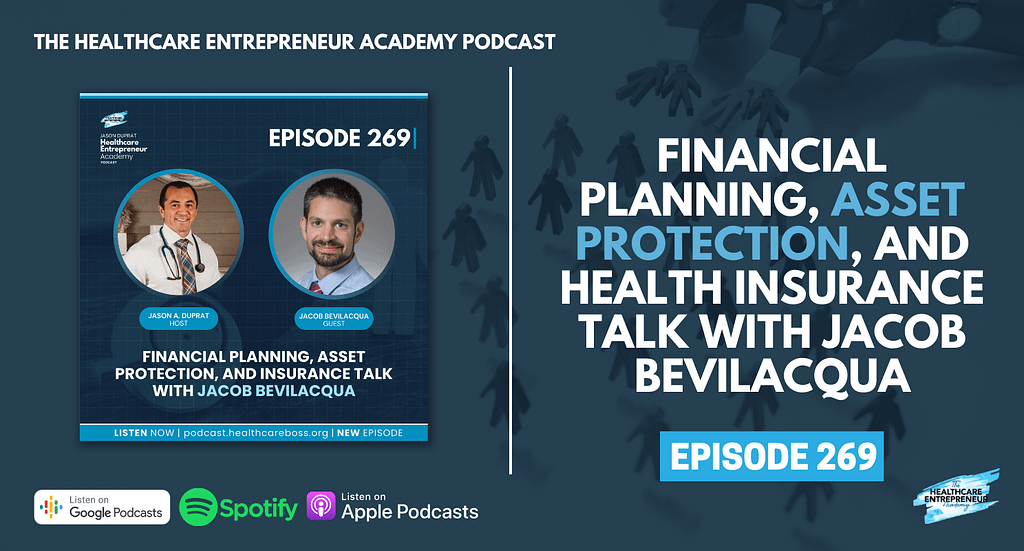 Save money for the future, but don't be afraid to spend on the now.
Jason A. Duprat, Entrepreneur, Healthcare Practitioner, and Host of the Healthcare Entrepreneur Academy podcast, sits down with Jacob Bevilacqua, 1099 CRNA and Financial Advisor at Capital Management Partners LLC. Jacob's mission is to promote financial independence and help people gain back control over their lives. Tune into this episode to learn more about the ins and outs of insurance and timeless insights on reaching your financial goals while enjoying the present.
Check out this episode on Spotify!
EPISODE HIGHLIGHTS
Jacob is a firm believer in having enough but never excess, and not getting insured for things that don't need to be covered.
The two big financial catastrophes in life are dying and leaving your family without your income, and being unable to work and earn income because of a disability.
For life insurance, you may avail of it wherever possible. However, for disability insurance, different companies are better for different specialists.
Find a trusted independent agent who's familiar with your profession.
There are two main subcategories of Life Insurance – Term insurance and Whole Life Insurance. Jacob generally recommends the former.
Someone who earns a lot but saves very little is not considered wealthy.
Automate your expenses: Taxes, Monthly Bills, and Monthly Savings you need for your goals. Set them aside after every salary, then enjoy the rest of your money.
Have a system where you save toward your goals while enjoying your money at the same time.
Invest in something you're interested in and excited about. Example: starting a business.
Delegating can free up essential time in your life.
Books recommended during the discussion were

"Rich Dad, Poor Dad" and "Rich Dad's Cashflow Quadrant" by Robert Kiyosaki
"Your Money or Your Life" by Vicki Robin
3 KEY POINTS
Insurance comes in many forms and for different purposes.
Find a trusted agent who knows your profession.
Live your life and enjoy your money in the now.
TWEETABLE QUOTES 
If you make a million dollars a year but spend all of it, that's not wealthy, but if you make a hundred thousand dollars and save half of that, that's wealthy – Jacob Bevilacqua
"Have a system where you save toward your goals while enjoying your money without feeling guilty about spending." – Jacob Bevilacqua
CONNECT WITH JASON DUPRAT
LinkedIn | Facebook | Instagram | Youtube
Email: support@jasonduprat.com
RESOURCES
Want to become an IV Nutritional Therapy provider? JOIN our FREE masterclass: https://www.ivtherapyacademy.com/podcast
Have a healthcare business question? Want to request a podcast topic? Text me at 407-972-0084 and I'll add you to my contacts. Occasionally, I'll share important announcements and answer your questions as well. I'm excited to connect with you!
Do you enjoy our podcast? Leave a rating and review: https://lovethepodcast.com/hea 
Don't want to miss an episode? Subscribe and follow: https://followthepodcast.com/hea
ABOUT THE GUEST
Jacob Bevilacqua is a 1099 CRNA who assists his colleagues with retirement accounts, financial planning, and life and disability insurance. His mission is to assist other CRNAs in achieving financial independence through his position as a Financial Advisor at Capital Management Partners LLC, an independent investment firm that specializes in the Financial Services area.
Financial flexibility is what Jake envisions for his clients to achieve and hopes to help more CRNAs pursue and achieve their financial goals and objectives as well.
CONNECT WITH THE GUEST
#HealthcareEntrepreneurAcademy #healthcare #HealthcareBoss #entrepreneur #entrepreneurship #podcast #businessgrowth #teamgrowth #digitalbusiness