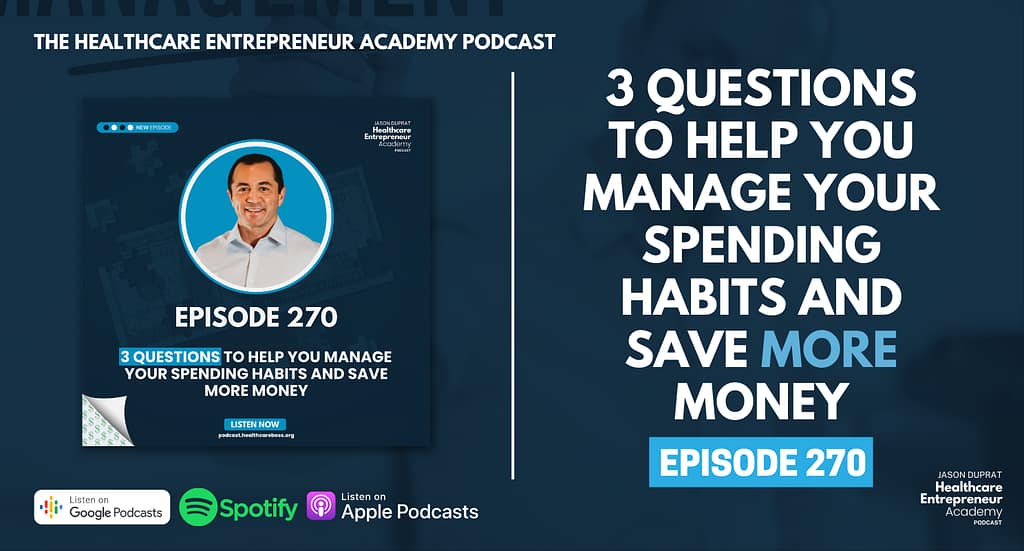 Think of something you want to buy.
Now, why do you want to buy it?
Jason A. Duprat, Entrepreneur, Healthcare Practitioner, and Host of the Healthcare Entrepreneur Academy podcast, shares years worth of money management lessons based on personal experiences. Tune into this episode to learn more about the financial ideals that helped Jason thrive in his entrepreneurial journey.
EPISODE HIGHLIGHTS
Lifestyle Creep – Your income increases, but you let your expenses increase even higher.
Take a step back before you make any purchasing decisions.
Make sure the thing you're buying is something you truly want, and not out of emotion, pride, or greed.
Health is wealth, and peace of mind is part of mental health.
Mind your Income to Expense ratio. Your expenses should never come close to your income.
Sales Psychology states that people make financial decisions emotionally and try to justify them logically.
Don't make large purchases immediately. Do some research, try it out, and let weeks pass before deciding again.
3 KEY POINTS – Questions to ask yourself before making a purchase:
Am I going to buy this to impress others?
Is this an emotional buying decision?
Does the value exceed the price I'm going to pay?
TWEETABLE QUOTES
"Before purchasing, ask yourself, 'Does the value I'm going to receive exceed the price I'm going to pay?'" – Jason A. Duprat
"Do not save what is left after spending, but spend what is left after saving." – Warren Buffett
CONNECT WITH JASON DUPRAT
LinkedIn | Facebook | Instagram | Youtube
Email: support@jasonduprat.com
RESOURCES
Want to become a Ketamine Therapy provider? Enroll NOW in The Ketamine Academy course: ketamineacademy.com/presentation
Have a healthcare business question? Want to request a podcast topic? Text me at 407-972-0084 and I'll add you to my contacts. Occasionally, I'll share important announcements and answer your questions as well. I'm excited to connect with you!
Do you enjoy our podcast? Leave a rating and review: https://lovethepodcast.com/hea
Don't want to miss an episode? Subscribe and follow: https://followthepodcast.com/hea
#HealthcareEntrepreneurAcademy #healthcare #HealthcareBoss #entrepreneur #entrepreneurship #podcast #businessgrowth #teamgrowth #digitalbusiness