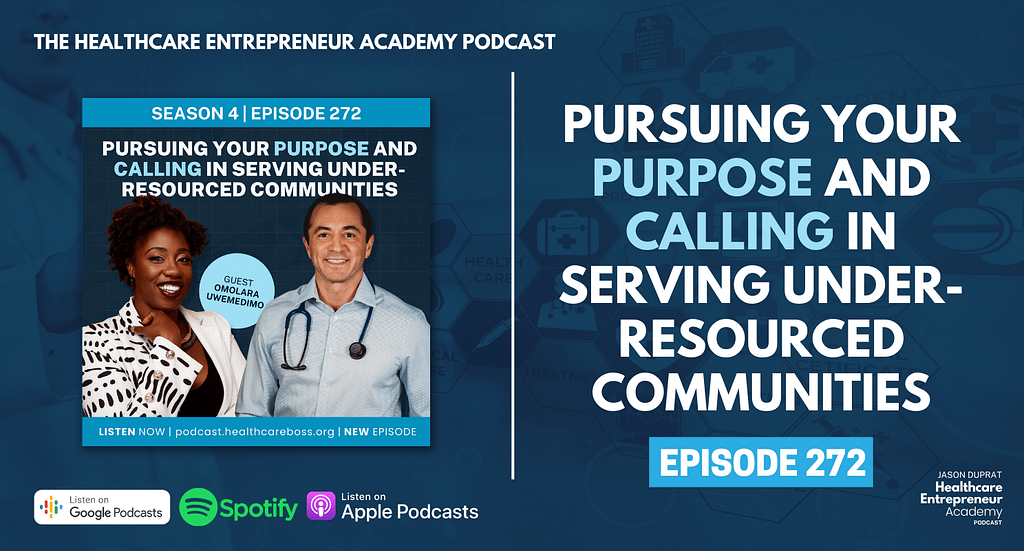 What difference can you make?
Jason A. Duprat, Entrepreneur, Healthcare Practitioner, and Host of the Healthcare Entrepreneur Academy podcast, sits down with Omolara Uwemedimo, Healthcare Social Entrepreneurship and Funding Consultant. Burnt out from multiple roles and being diagnosed with multiple sclerosis, Omolara stood atop multiple challenges to serve multiple underserved communities. In this episode, Omolara also imparts her experiences and wisdom in terms of securing funding for social enterprises.
Check out this episode on Apple Podcasts and Spotify!
EPISODE HIGHLIGHTS
Omolara transitioned to Social Entrepreneurship in 2019 after burnout and being diagnosed with Multiple Sclerosis
She learned about Public Health while working with the Ministry of Health, and returned to the US to get a Public Health degree and research fellowship.
She incurred burnout from handling multiple roles: Seeing patients, teaching public health, running global health programs, and being a mother.
To help her reflect on her career, her brother asked her, "What brings you joy?" Wherein she turned to supporting families and mentoring women with similar stories as her.
Omolara recommends the book "The Future Belongs to Those Who Dare" by Priscilla Rose.
When securing funding, people are not interested in how much you'll make, but the value you'll bring to the industry.
Be clear on your values before focusing on income.
Omolara's business is called Melanin & Medicine, aiming to change the healthcare landscape by building more healthcare spaces led by women of color.
3 KEY POINTS
Clarify your passion – "What brings you joy?"
Clarify your service – "What value can I bring?"
Clarify your framework – "How exactly can I bring value?"
TWEETABLE QUOTES
"How many people have you reached? What have you changed? How has healthcare changed because of your existence? These are what people want to know." – Omolara Uwemedimo
"There are a lot of opportunities to earn money, but first, be clear about your values and framework." – Omolara Uwemedimo
CONNECT WITH JASON DUPRAT
LinkedIn | Facebook | Instagram | Youtube
Email: support@jasonduprat.com
RESOURCES
Want to become a Ketamine Therapy provider? Enroll NOW in The Ketamine Academy course: ketamineacademy.com/presentation
Have a healthcare business question? Want to request a podcast topic? Text me at 407-972-0084 and I'll add you to my contacts. Occasionally, I'll share important announcements and answer your questions as well. I'm excited to connect with you!
Do you enjoy our podcast? Leave a rating and review: https://lovethepodcast.com/hea
Don't want to miss an episode? Subscribe and follow: https://followthepodcast.com/hea
ABOUT THE GUEST
Dr. Omolara Thomas Uwemedimo is a healthcare social entrepreneurship & funding consultant, specializing in healthcare practices committed to creating health equity in under-resourced communities.
Dr. Uwemedimo worked as a global pediatrician in low-income countries for almost 2 decades and as a public health researcher and professor for over a decade, securing over $2 million in grant funding and leading inter-professional teams to build and scale healthcare delivery and research programs to achieve health equity for marginalized youth and families.
CONNECT WITH THE GUEST
#HealthcareEntrepreneurAcademy #healthcare #HealthcareBoss #entrepreneur #entrepreneurship #podcast #businessgrowth #teamgrowth #digitalbusiness