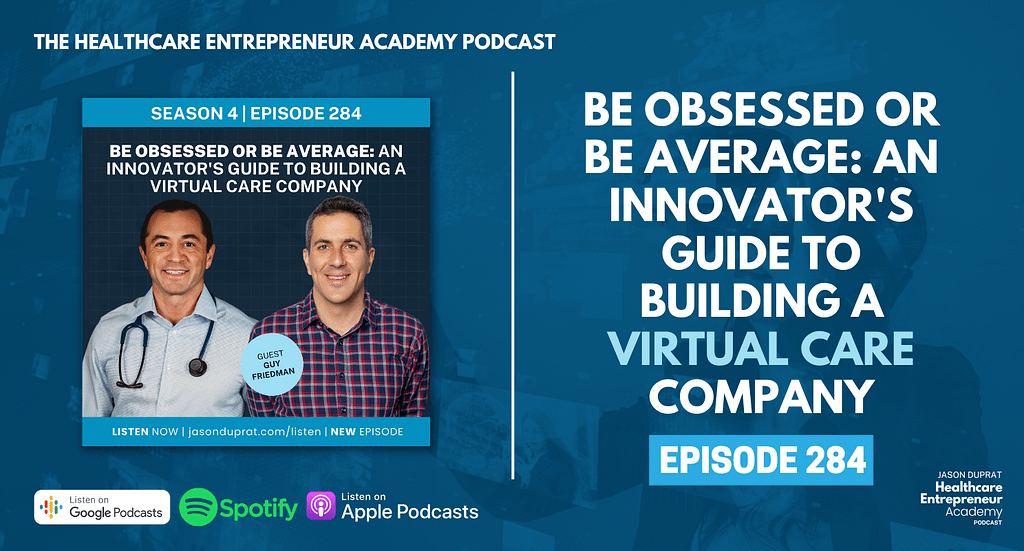 No matter how good it is,
It can always be improved.
Jason A. Duprat, Entrepreneur, Healthcare Practitioner, and Host of the Healthcare Entrepreneur Academy podcast, sits down with Guy Friedman, CEO and Co-Founder at SteadyMD and HigherNext. In this episode, Guy shares the story of how he built his businesses from the ground up, the rationale behind each process, and how virtual care has contributed to the massive change in our healthcare system. Tune in to learn more about the greatest instrument he's wielded since childhood: his mindset.
3 KEY POINTS:
Always assume that something can be improved.
Collect questions you don't know the answers to.
Know your practice from the inside out.
EPISODE HIGHLIGHTS:
Guy grew up questioning things and thinking of new innovative solutions to any problem he could think of.
He started venturing into start-ups around 2010, then later translated his businesses into telehealth and digital health
SteadyMD was the highest version of virtual primary care you could access online in 2017.
In 2020, they had an influx of other digital health companies asking to hire Guy's clinicians on their platform. This signaled the existence of a large market, so they geared the business into an on-demand 50-state clinician workforce wherein digital health companies can tap into.
For Guy, taking an MBA isn't required before starting a business, but the education helped build the foundations of his business know-how.
When hiring programmers, Guy recommends outsourcing from other countries for cost-effectiveness but prefers always to have at least one person from the US.
Guy spent six months doing extensive research on telehealth, digital health, and identifying how the healthcare industry could be improved for all.
The pandemic in 2020 was the perfect opportunity that accelerated their already growing momentum.
In fundraising, resign yourself to having hundreds of meetings and repeating yourself a lot. Do your best and keep grinding. Don't get discouraged and impatient. Treat it as a rite of passage, a battle you have to get through.
Be diligent when listening to questions and adjust your pitch based on those, not on what you think is the most convincing argument.
There's no excuse for not knowing everything about your industry, company, and competitors.
With the convenience of the internet today, there's no excuse for not keeping up with the industry happenings.
You can't fail if you don't give up.
TWEETABLE QUOTES:
"Always assume that systems aren't optimized in the best way possible; that there's room for innovation." – Guy Friedman

Tweet
"Do your research. If they ask a question and you don't know the answer, make sure you know it the next time someone asks." – Guy Friedman

Tweet
CONNECT WITH JASON DUPRAT
LinkedIn | Facebook | Instagram | Youtube
Email: support@jasonduprat.com
Join our Facebook group: jasonduprat.com/group
ABOUT THE GUEST
Guy Friedman is CEO and Co-Founder at SteadyMD, a B2B telehealth technology platform and clinician workforce provider that powers high-quality telehealth patient experiences for leaders and innovators in healthcare. Guy has successfully transitioned SteadyMD from a first-of-its-kind completely online, direct-to-consumer concierge primary care service to a leading provider of telehealth infrastructure for digital health companies, labs, pharmacies, employers, and other healthcare innovators.
CONNECT WITH THE GUEST
RESOURCES
Want to become a Ketamine Therapy provider? Enroll NOW in The Ketamine Academy course: ketamineacademy.com/presentation
Sign up for one of our free business start-up Masterclasses by heading over to jasonduprat.com/freemasterclass
Have a healthcare business question? Want to request a podcast topic? Text me at 407-972-0084 and I'll add you to my contacts. Occasionally, I'll share important announcements and answer your questions as well. I'm excited to connect with you!
Do you enjoy our podcast? Leave a rating and review: https://lovethepodcast.com/hea
Don't want to miss an episode? Subscribe and follow: https://followthepodcast.com/hea
RELATED EPISODES:
#HealthcareEntrepreneurAcademy #healthcare #HealthcareBoss #entrepreneur #entrepreneurship #podcast #businessgrowth #teamgrowth #digitalbusiness