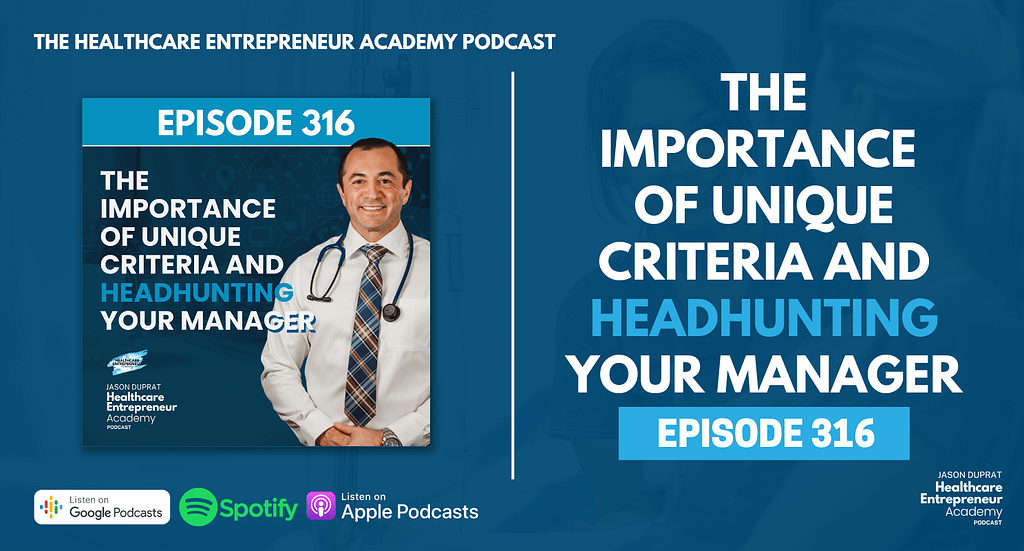 OVERVIEW:
"People are not your most important asset. The right people are." – Jim Collins
Jason A. Duprat, Entrepreneur, Healthcare Practitioner, and Host of the Healthcare Entrepreneur Academy podcast, talks about the best practices when hiring for managerial roles. In this episode, Jason recalls his experiences with recent mis-hires, his key takeaways to avoid potential hiring mistakes, and red flags to consider when screening applicants. Tune in until the end to learn more about his recently launched book!
3 KEY POINTS:
Don't hire managers with potential. Hire those with experience.
Don't ever lowball your offer. If you want top-tier talent, you must be willing to pay well.
Don't hire entrepreneurs. Hire intrapreneurs.
EPISODE HIGHLIGHTS:
Jason recently had mis-hires for the marketing director position of his business.
He's since learned from these experiences and has solidified his hiring process.
He's also received advice from his mastermind group, the Board of Experts by Anik Singal.
For your business to grow 3x or 5x, you'd want to hire someone with proven experience.
Use personality tests to identify an applicant's compatibility with a role.
Jason suggests doing a minimum of three interviews to evaluate an applicant thoroughly.
He also recommends having other critical people in the business interview the applicants since they'll potentially be working with them. If even one interviewer isn't assured with an applicant, they won't go any further in the hiring process.
Write precise job descriptions with included KPIs they'll be responsible for.
To attract great people, ensure a great working environment with excellent company culture.
Hire people who fit your company's culture and core values.
Hire people who are genuinely passionate about what they do, not those who work for money alone.
From Alex Hormozi: Don't hire entrepreneurs. Hire intrapreneurs.
Avoid hiring unemployed managers, as they may be underperformers who were terminated.
To purchase the Clinic Launch Secrets book, use this link https://mybook.to/cliniclaunchsecrets and then leave a rating and written review. Grab a screenshot of your review and head over to www.jasonduprat.com/review and then you will receive access to the complementary audiobook.
TWEETABLE QUOTES:
"Hire managers for their experience, not their potential." – Jason A. Duprat

Tweet
"Don't ever lowball your offer. If you want top-tier talent, you must be willing to pay well." – Jason A. Duprat

Tweet
CONNECT WITH JASON DUPRAT:
LinkedIn | Facebook | Instagram | Youtube | Facebook Group
RESOURCES:
Sign up for one of our free business start-up Masterclasses by heading over to https://healthcareboss.org/masterclass/
Have a healthcare business question? Text me at 386-284-4955, and I'll add you to my contacts. Occasionally, I'll share important announcements and answer your questions as well.
Do you enjoy our podcast? Leave a rating and review: https://lovethepodcast.com/hea
RELATED EPISODES:
#HealthcareEntrepreneurAcademy #healthcare #HealthcareBoss #entrepreneur #entrepreneurship #podcast #businessgrowth #teamgrowth #digitalbusiness