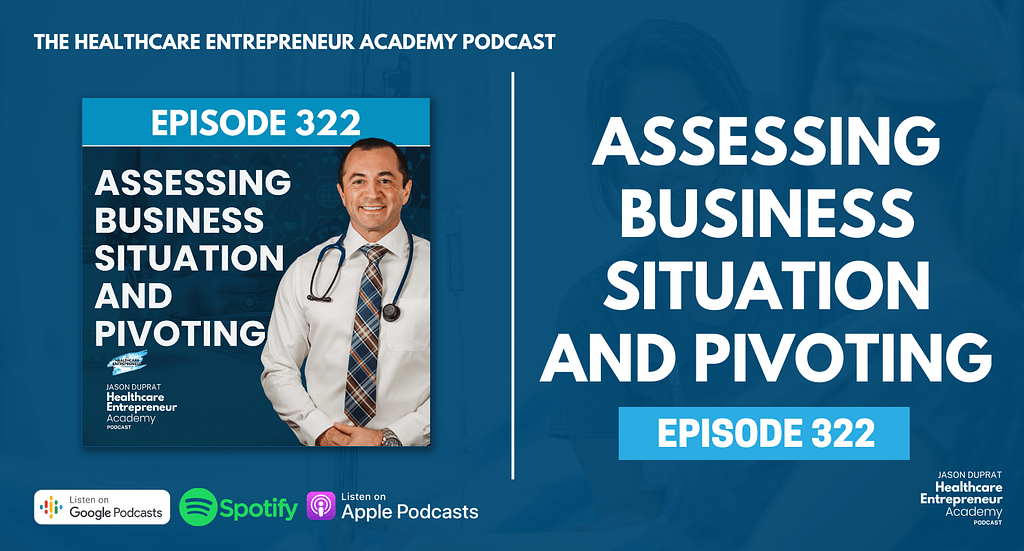 OVERVIEW:
"Change occurs when excuses pivot to execution." ― Ryan Lilly
Jason A. Duprat, Entrepreneur, Healthcare Practitioner, and Host of the Healthcare Entrepreneur Academy podcast, talks about why he is going on hiatus. He highlights the new and exciting business plans he's cooking and how these will help more business owners to be more successful and cope with the growing AI wave.
EPISODE HIGHLIGHTS:
Jason talks about the importance of pivoting in business especially if there is a misalignment with goals or new information that indicates the current approach is not working.
The podcast has been successful but it's time to take a pause and focus on other things that require more attention. The podcast will be on hiatus for three months and the most listened-to episodes will be replayed during that time.
Jason is planning to start a membership group to help people in the healthcare industry learn and share information about AI technology, particularly ChatGPT, and how it can be used to help grow businesses.
Jason is launching new software that will help clinic owners manage their patient relationships more effectively.
Reach out to Jason's new community number for a close-knit community of podcast listeners where text any questions, or feedback, tell what you think about AI or automation, how your business is doing, or if you think there is an interesting person you want to be a future guest at 386-284-4955.
Jason is asking for a favor! Go to jasonduprat.com/feedback and answer the form. As a bonus, you'll get FREE access to his audiobook, How To Start and Launch a Clinic which hit #3 Wall Street Journal Bestseller and Amazon Bestseller in seven categories.
TWEETABLE QUOTES:
"Pivot is good. It means you're adaptable and responsive to changing environments." – Jason Duprat

Tweet
"There are millions of reasons why you want to pivot, but the important thing is that you are willing to change to get to where you want to go based on your goals" – Jason Duprat

Tweet
CONNECT WITH JASON DUPRAT:
LinkedIn | Facebook | Instagram | Youtube | Facebook Group
RESOURCES:
Sign up for one of our free business start-up Masterclasses by heading over to https://healthcareboss.org/masterclass/
Have a healthcare business question? Text me at 386-284-4955, and I'll add you to my contacts. Occasionally, I'll share important announcements and answer your questions as well.
Do you enjoy our podcast? Leave a rating and review: https://lovethepodcast.com/hea
#HealthcareEntrepreneurAcademy #healthcare #HealthcareBoss #entrepreneur #entrepreneurship #podcast #businessgrowth #teamgrowth #digitalbusiness