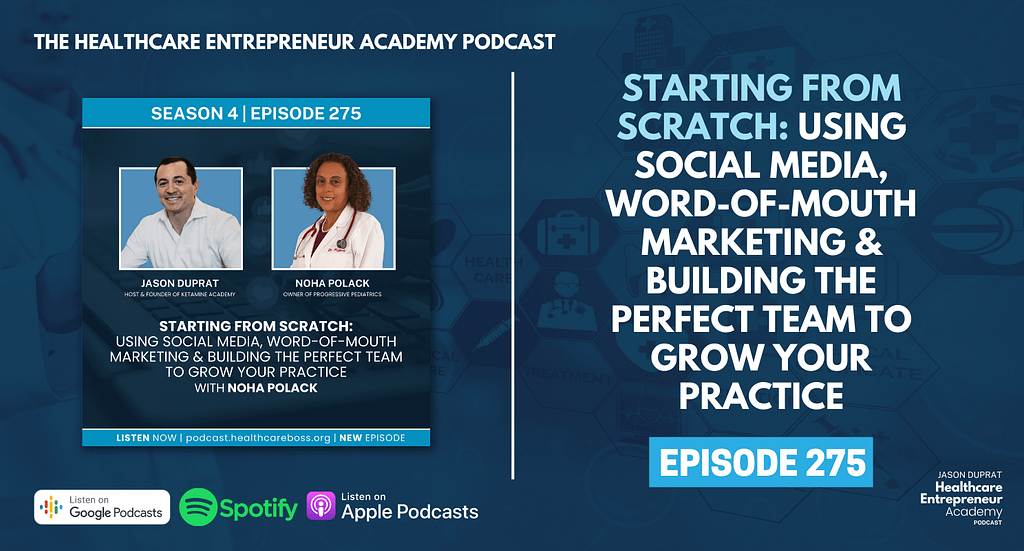 The right resources will get you going,
But the right mindset will get you far.
Jason A. Duprat, Entrepreneur, Healthcare Practitioner, and Host of the Healthcare Entrepreneur Academy podcast, sits down with Noha Polack, accomplished board-certified pediatrician and owner of Progressive Pediatrics. From working for a bankrupt business to growing her own, Noha's story is an inspiration for all entrepreneurs. Tune in to learn about the life lessons she'd developed over years of trial and error.
3 KEY POINTS:
Build your brand.
Hire the right people.
Always go beyond when serving clients.
EPISODE HIGHLIGHTS:
22 years ago, Noha decided to create her own work environment after experiencing unfavorable working conditions.
Marketing was different back then. Noha did face-to-face speaking engagements in childbirth education classes to market herself.
Back in 2009. Noha took on a mutual friend's business and grew it significantly.
Noha boosted her Social Media presence through YouTube videos and Facebook Live videos.
Find a superstar for your front desk with an intelligent, understanding, and eloquent voice.
Find physicians who mesh with your mindset so there's consistency in your practice.
When hiring people, no one finds the right fit right away. It takes a little trial and error.
When hiring, ask them what they want from the job besides money. If money is all they want, that's not the right fit.
Post about other things aside from your primary practice.
Noha highly recommends listening to the EntreMD Podcast by Dr. Una, as she considers it to be greatly instrumental in her journey.
To avoid burnout, remember to take care of your health by taking frequent rests.
TWEETABLE QUOTES:
"Go one or two steps beyond what others are doing." – Noha Polack
"You can go and make money anywhere, but if you don't enjoy the work, it's unlikely you're going to be good at it or stick to it." – Noha Polack
CONNECT WITH JASON DUPRAT
LinkedIn | Facebook | Instagram | Youtube
Email: support@jasonduprat.com
RESOURCES
Want to become an IV Nutritional Therapy provider? JOIN our FREE masterclass: https://www.ivtherapyacademy.com/podcast
Have a healthcare business question? Want to request a podcast topic? Text me at 407-972-0084 and I'll add you to my contacts. Occasionally, I'll share important announcements and answer your questions as well. I'm excited to connect with you!
Do you enjoy our podcast? Leave a rating and review: https://lovethepodcast.com/hea
Don't want to miss an episode? Subscribe and follow: https://followthepodcast.com/hea
RELATED EPISODES:
#HealthcareEntrepreneurAcademy #healthcare #HealthcareBoss #entrepreneur #entrepreneurship #podcast #businessgrowth #teamgrowth #digitalbusiness