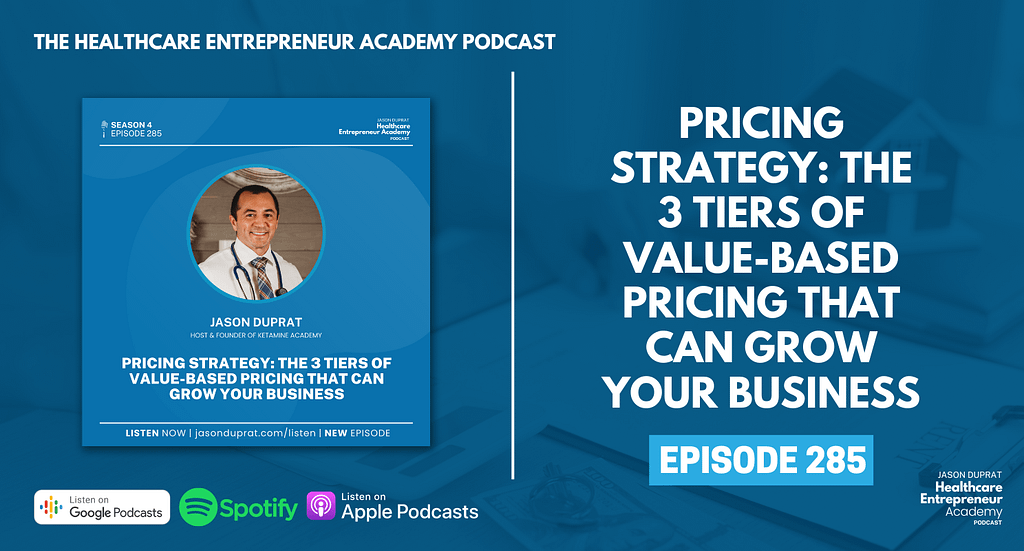 Do what the other 99% aren't doing.
Jason A. Duprat, Entrepreneur, Healthcare Practitioner, and Host of the Healthcare Entrepreneur Academy podcast, talks about setting your products/services on a category of their own. In this episode, Jason shares some of his takeaways from Alex Hormozi's "$100M Offers," teaching us the foundation for charging premium rates and allowing your business to be a unique gem among the rest.
3 KEY POINTS:
Analyze and anticipate your clients' problems.
Create offers that solve those problems.
Price your services at a premium rate.
EPISODE HIGHLIGHTS:
Pricing your services as the cheapest is a race to the bottom.
Avoid being in a commodity business. Grocery stores are one of the best examples of these. The profit margin in a grocery store is usually 3-5% which leaves zero room for error.
If you price yourself under the competition, you're entering into the cycle of commodity markets, where each new competitor decreases their price in hopes of capturing a larger market share over time, which usually doesn't end well.
To create an amazing offer, go back to what your client, student, or patient is coming to see you for, analyze every problem they could probably face, and create a solution for those.
Jason's listening to Alex Hormozi's "$100M Offers" and taking notes on how to improve his businesses' offers and stay in a "category of one."
Taken from the book, Jason explains the different tiers of service you can provide:

Do It Yourself – "We'll teach you, but you'll do it yourself."
Done With You – A tier higher including a combination of what the client does and what's done for them
Done For You – Everything is done for the client.

By combining different varieties of services, the value you're giving becomes higher.
If you package your solutions for your client's problems, you are creating an incredible value proposition that you can charge far above what anybody else is charging.
Stay tuned for a future episode where we talk about an equation explaining what you need to do to increase the value of your service.
Also, stay tuned for exciting news about our upcoming giveaway.
TWEETABLE QUOTES:
"Go back to what your clients are coming to see you for, analyze every problem they could face, and create solutions for those." – Jason A. Duprat

Tweet
"The more problems you solve, the more value they receive. The more value they receive, the more you can charge for your service." – Jason A. Duprat

Tweet
CONNECT WITH JASON DUPRAT
LinkedIn | Facebook | Instagram | Youtube
Email: support@jasonduprat.com
Join our Facebook group: jasonduprat.com/group
RESOURCES
Want to become an IV Nutritional Therapy provider? JOIN our FREE masterclass: https://www.ivtherapyacademy.com/podcast
Sign up for one of our free business start-up Masterclasses by heading over to jasonduprat.com/freemasterclass
Have a healthcare business question? Want to request a podcast topic? Text me at 407-972-0084 and I'll add you to my contacts. Occasionally, I'll share important announcements and answer your questions as well. I'm excited to connect with you!
Do you enjoy our podcast? Leave a rating and review: https://lovethepodcast.com/hea
Don't want to miss an episode? Subscribe and follow: https://followthepodcast.com/hea
RELATED EPISODES:
#HealthcareEntrepreneurAcademy #healthcare #HealthcareBoss #entrepreneur #entrepreneurship #podcast #businessgrowth #teamgrowth #digitalbusiness