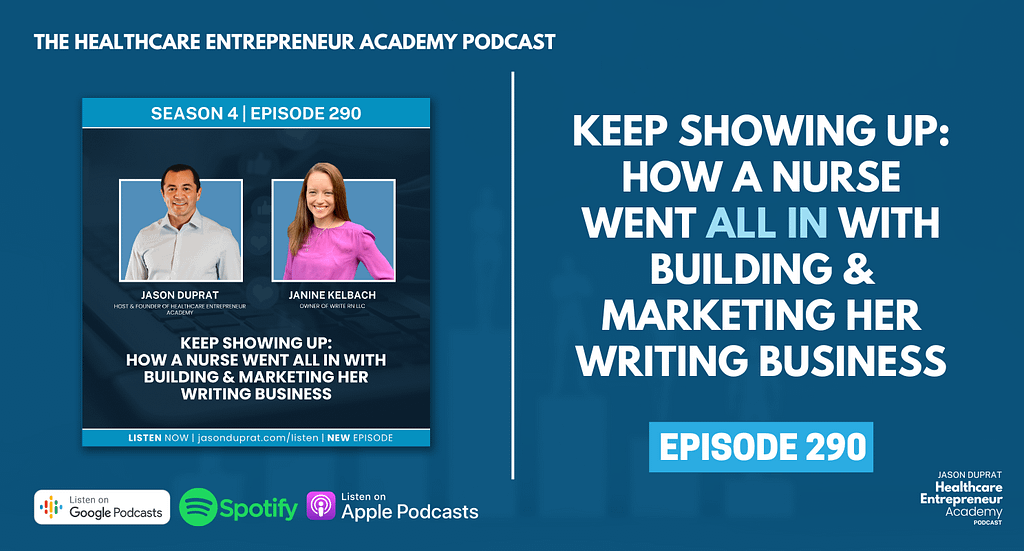 "Where focus goes, energy flows."
– Tony Robbins
Jason A. Duprat, Entrepreneur, Healthcare Practitioner, and Host of the Healthcare Entrepreneur Academy podcast, sits down with Janine Kelbach, Educator, Author of Entreprenurse, CEO of Write RN, Host of Savvy Scribe Podcast, and Brand Owner of Savvy Nurse Writer. In this episode, Janine shares her story of pursuing several entrepreneurial passions, how she excelled at each, and her advice for all aspiring writers and entrepreneurs. If becoming a writer has crossed your mind, this episode is for you.
3 KEY POINTS:
Keep Reading.
Keep Connecting.
Keep Showing Up.
EPISODE HIGHLIGHTS:
Janine took a Home Care position wherein she realized she loved the autonomy of scheduling her patients, being in charge, and using her skills such as time management, organization, and prioritizing.
She then got into writing and became an entrepreneur focusing on that venture.
In 2020, her main focus shifted from Writing to Project Management and Communication with clients.
For Janine, Entrepreneurship helps open doors for people to freely do what they truly want to do.
Janine started her Writing journey by creating blogs focused on Labor and Delivery topics.
Reading a lot, joining mastermind groups, and talking to people in the field have helped Janine distinguish the next steps to take in her entrepreneurial career.
Write RN is a Business-to-Business relationship, and Savvy Nurse Writer is her business to Nurses (consumers) who want to write.
Janine wrote "Entreprenurse" to show that nurses can start businesses. She interviewed 30+ Nurses and shared their stories to inspire others.
Effective Search Engine Optimization (SEO) allows Google to find you better. Blogs can help drive traffic to your website.
Come up with a content calendar where you have 3-5 buckets of information you can use.
Janine recommends using Click Up, Asana, Trello, and other project management apps to make processes more efficient.
Delegating your other tasks helps you focus on areas that best help your business grow.
TWEETABLE QUOTES:
"Keep reading, keep learning, keep following people who've figured it out a little bit." – Janine Kelbach

Tweet
"The number one thing is to keep showing up. If you're not committed to doing it, it's never going to happen." – Janine Kelbach

Tweet
ENTER TO WIN A PELOTON BIKE AND A FULL ACCESS TO ONE OF OUR COURSES!
CONNECT WITH JASON DUPRAT
LinkedIn | Facebook | Instagram | Youtube
Email: support@jasonduprat.com
Join our Facebook group: https://jasonduprat.com/group
ABOUT THE GUEST
Janine Kelbach, BSN RNC-OB, is a wife, mom of 2 boys (and a Great Dane), educator and author of the book, Entreprenurse: 30+ Nurses Turn Into Business Owners and Share Their Secrets to Success. She has been a Freelance Health Content Writer since 2013 and is the CEO of Write RN. She hosts The Savvy Scribe Podcast and owns SavvyNurseWriter.com. Her team of RN writers help healthcare companies with their content and social needs.
CONNECT WITH THE GUEST
Instagram: https://www.instagram.com/savvynursewriter
LinkedIn: https://www.linkedin.com/in/writernjanine/
Website: www.savvynursewriter.com
Course: www.savvynursewriter.com/membership
RESOURCES
RELATED EPISODES:
#HealthcareEntrepreneurAcademy #healthcare #HealthcareBoss #entrepreneur #entrepreneurship #podcast #businessgrowth #teamgrowth #digitalbusiness