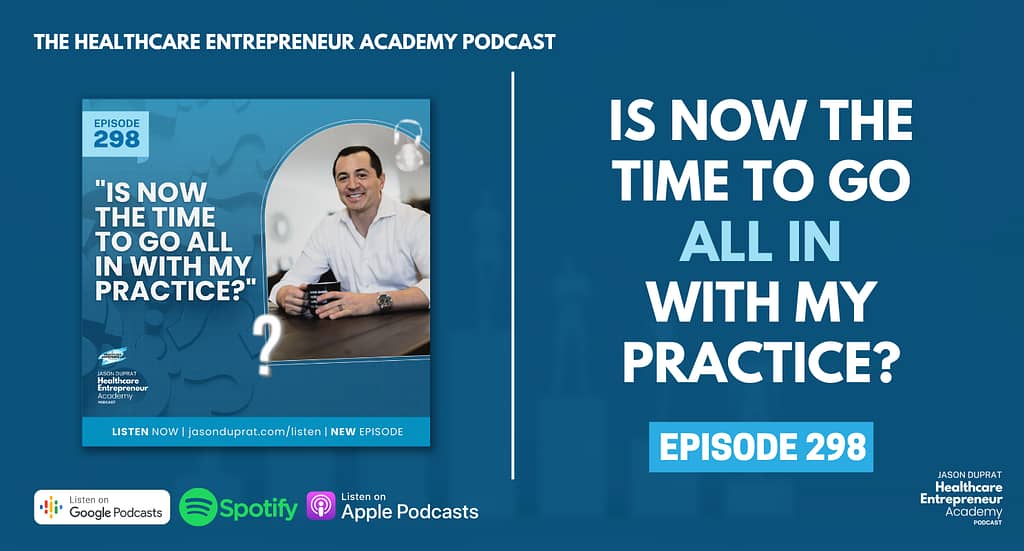 "If you buy things you do not need, soon you will have to sell things you need."
– Warren Buffet
Jason A. Duprat, Entrepreneur, Healthcare Practitioner, and Host of the Healthcare Entrepreneur Academy podcast, answers a question from his text community regarding making big purchases. In this episode, Jason runs us through a step-by-step calculation to determine whether or not an expensive purchase is worth it. Wait for the YouTube version of this episode to see his calculations on-screen!
3 KEY POINTS: When deciding on a big purchase
Always go back to the numbers.
Let your emotions simmer down.
The more information you gather, the better your decision-making.
EPISODE HIGHLIGHTS:
Jason features a question from his text community. The inquirer recently opened a MedSpa and is looking to purchase expensive equipment. They're wondering if now would be the right time to continue with that purchase.
Purchasing the equipment will add five additional services to what they can offer, there are no consumables related to those offers, and they can buy the laser at a discount.
For these cases, Jason recommends going back to the numbers.
Typically, you don't want to finance anything that loses you money. However, in business, if you can buy something and pay for it over time while it makes you money, it's called Leveraging.
You can look up free Amortization Calculators on Google.
Don't focus so much on that big number. Instead, focus on the monthly payments and the number of patients required to execute and pay for this particular device.
The first rule of business is to use Leverage to grow your business and your income.
The calculations discussed throughout the episode are as follows. These are based on hypothetical numbers only.

The Laser is worth $180,000

20% discount –> 144,000
10% Downpayment = 14,400
Total Remaining Balance = $129,600

10 years for the loan term

5% interest rate
Estimated monthly payment = $1,400 per month
Extra cost for maintenance or electricity = $300 per month
Monthly cost = $1,700

Five additional services upon acquiring the equipment

Each service would cost, on average = $250

7 Treatments are needed in order to break the cost of the equipment

Each treatment takes 30 minutes
= 3.5 Hours of Labor
Multiply by $150 per hour
= $525 monthly

$1,700 + $525 = $2,225 monthly cost
TWEETABLE QUOTES:
"If you want to get an opportunity to buy an expensive piece of equipment, try and sit on it for a day or two. Don't let anybody pressure you into making quick, rapid decisions. Let your emotions simmer down and look at it from a rational, financial standpoint." – Jason A. Duprat

Tweet
"The more detail you can include in terms of your information gathering, the better your decision-making will be." – Jason A. Duprat

Tweet
CONNECT WITH JASON DUPRAT
LinkedIn | Facebook | Instagram | Youtube
Email: support@jasonduprat.com
Join our Facebook group: https://jasonduprat.com/group
RESOURCES
RELATED EPISODES:
#HealthcareEntrepreneurAcademy #healthcare #HealthcareBoss #entrepreneur #entrepreneurship #podcast #businessgrowth #teamgrowth #digitalbusiness