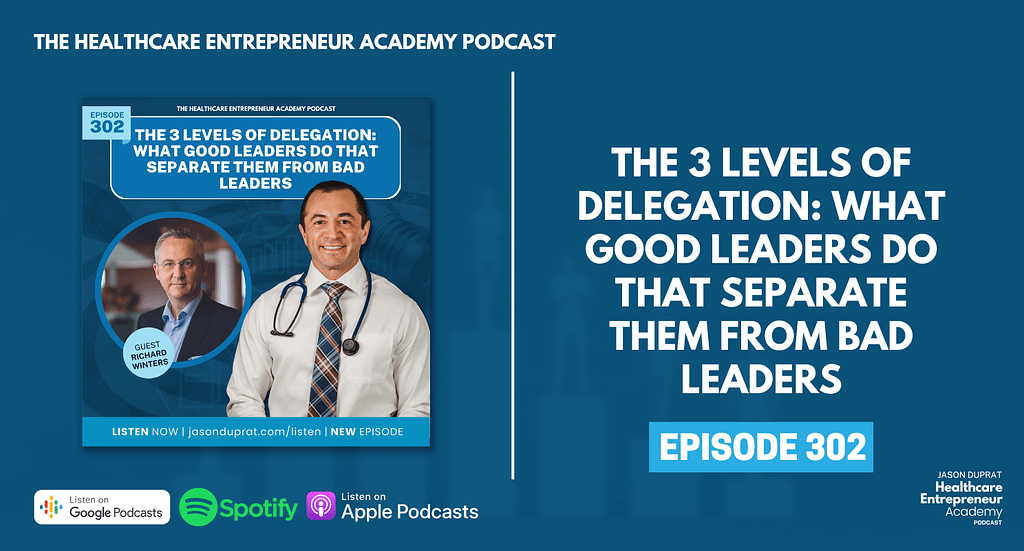 Leaders breed leaders, not followers.
Jason A. Duprat, Entrepreneur, Healthcare Practitioner, and Host of the Healthcare Entrepreneur Academy podcast, sits down with Richard Winters, Practicing Emergency Physician, Professional Certified Coach, and Author of the Wall Street Journal Best Seller: "You're the Leader. Now what?" In this episode, Jason and Richard dive deep into what it really means to be a Leader, Manager, Mentor, Teacher, Supervisor, and Coach, and why it's important to have each hat in your toolkit. Tune into this episode for timeless wisdom every leader should hear about.
3 KEY POINTS:
Leaders inspire others to become leaders.
Leaders create synergy among everyone's differences.
Leaders shed light on people's fears and help overcome them.
EPISODE HIGHLIGHTS:
TWEETABLE QUOTES:
"Leadership is figuring out how to connect with interests of the individuals you're working with." – Richard Winters

Tweet
"As a mentor, I help you see through my eyes. As a coach, I help you see through your own eyes." – Richard Winters

Tweet
CONNECT WITH JASON DUPRAT
LinkedIn | Facebook | Instagram | Youtube
Email: support@jasonduprat.com
Join our Facebook group: https://jasonduprat.com/group
ABOUT THE GUEST
Dr. Richard Winters is a practicing emergency physician at Mayo Clinic and author of the Wall Street Journal Best Seller "You're the Leader. Now What? Leadership Lessons from Mayo Clinic" (Mayo Clinic Press, Sept. 6, 2022). As director of Leadership Development for the Mayo Clinic Care Network, Dr. Winters facilitates retreats and delivers programs that train leaders at healthcare organizations worldwide.
CONNECT WITH THE GUEST
RESOURCES
RELATED EPISODES:
#HealthcareEntrepreneurAcademy #healthcare #HealthcareBoss #entrepreneur #entrepreneurship #podcast #businessgrowth #teamgrowth #digitalbusiness