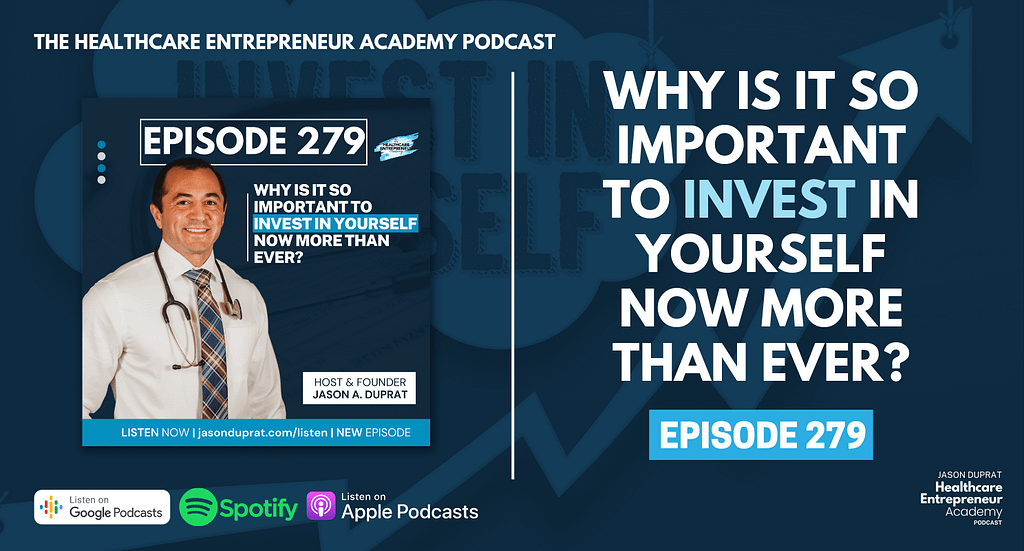 "We must never be too busy to take time to sharpen the saw."
– Stephen Covey
Jason A. Duprat, Entrepreneur, Healthcare Practitioner, and Host of the Healthcare Entrepreneur Academy podcast, talks about the importance of investing in training. In this episode, Jason shares some of his takeaways from several training programs he joined, such as Growth Plans, KPIs, and Resource Mapping, as well as his take on taking MBAs before starting your own business. Stick around until the end of the episode to learn more about joining the Goldman Sachs 10,000 Small Businesses Program.
3 KEY POINTS:
Create and update your Growth Plans.
Choose your KPIs carefully.
Map out your resources.
EPISODE HIGHLIGHTS:
Through taking several programs, Jason is developing his own curriculum for future courses/masterminds.
An entrepreneur is a person with the ability to identify problems, spot opportunities, organize resources, and provide the leadership needed to build, create, and offer the market a product or service of value.
Growth Plans are similar to Business Plans, but more focused on growth opportunities. They are living documents that you constantly update as your business develops and grows.
Key Performance Indicators are referred to some as Key Predictive Indicators. These indicators allow you to spot potential problems quickly to change the predicted outcome.
MBAs focus more on teaching you how to be a corporate manager rather than being an entrepreneur.
Resource Mapping allows you to assess what your business needs and where change should be focused on.
Human Resources/Human Capital – one of the things you have to leverage in order to scale. Assess what your business needs to do its job better.
Once we reach a certain amount of scale, having all of these systems, procedures, and a team of leaders is critical.
Social Resources/Network – includes being a part of masterminds, local business programs, community training programs, university programs, etc.
Jason was invited to become an advisor to the UCF College of Nursing.
Organizational Resource – What kind of company culture, systems, and reputation do you have?
Physical Resources – What kind of essential equipment do you have? Do you need/have a physical location?
Technological Resources – Do you hold any particular intellectual property, patents, or trademarks? What kind of technological or network systems do you have in place?
Financial Resources – Do you have a strong/weak cash flow?
Some businesses have more resource categories than others.
Jason is planning to enroll in even more programs to bring his students the absolute best content.
If you're interested in applying for the Goldman Sachs 10,000 Small Business Program, listen until the end of the episode.
TWEETABLE QUOTES:
"Build a solid foundation from which your business can scale much faster rather, than scaling too quickly and having the whole thing collapse." – Jason A. Duprat
"Growing a business is hard, but at the end of the day, you can be proud that you created a legacy from zero." – Jason A. Duprat
CONNECT WITH JASON DUPRAT
LinkedIn | Facebook | Instagram | Youtube
Email: support@jasonduprat.com
RESOURCES
Want to become an IV Nutritional Therapy provider? JOIN our FREE masterclass: https://www.ivtherapyacademy.com/podcast
Have a healthcare business question? Want to request a podcast topic? Text me at 407-972-0084 and I'll add you to my contacts. Occasionally, I'll share important announcements and answer your questions as well. I'm excited to connect with you!
Do you enjoy our podcast? Leave a rating and review: https://lovethepodcast.com/hea
Don't want to miss an episode? Subscribe and follow: https://followthepodcast.com/hea
RELATED EPISODES:
#HealthcareEntrepreneurAcademy #healthcare #HealthcareBoss #entrepreneur #entrepreneurship #podcast #businessgrowth #teamgrowth #digitalbusiness