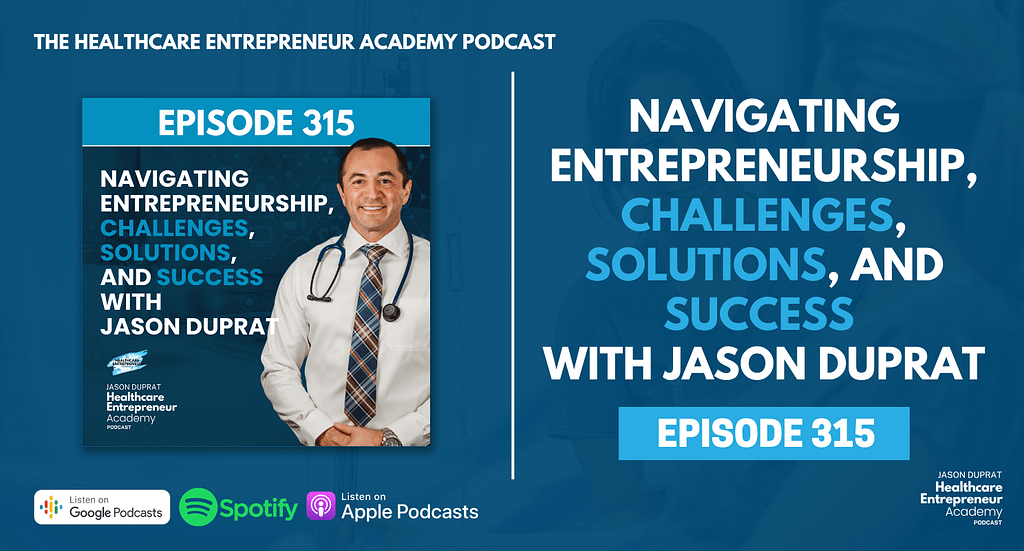 OVERVIEW:
"You have a brain and mind of your own. Use it, and reach your own decisions." – Napoleon Hill
Jason A. Duprat, Entrepreneur, Healthcare Practitioner, and Host of the Healthcare Entrepreneur Academy podcast, talks about the Importance of Critical Thinking as an Entrepreneur. In this episode, Jason shares his process when writing his first-ever book, how long it took him, the challenges he faced, and his "Never settle for less" attitude. Tune into this episode to learn more about his upcoming book launch and how to get a free audio version of the book!
3 KEY POINTS:
Master your critical thinking skills.
Don't dwell on making everything perfect.
Don't settle for less.
EPISODE HIGHLIGHTS:
As an entrepreneur, you've already created a solution for your clients. You have the foundation to be a great critical thinker.
Beyond that, you must master being a critical thinker because there will be daily problems in your business.
Jason and his team are currently handling multiple challenges inside the business, mainly his upcoming book launch.
His first-ever book, "Clinic Launch Secrets: The Healthcare Professional's Playbook for Boosting Income and Autonomy through Practice Ownership," will be launched on March 12-18.
When facing something for the first time, there will be more uncertainties, making the hurdle much steeper to overcome.
You may shortcut your process with the help of assistants and consultants, but sometimes you have to do the work yourself.
Jason's next challenge with his book launch is needing Amazon Reviews.
The solution they thought of is, for one time only, to offer the book as a Kindle version for ¢99 on March 12-18.
Jason highly recommends the book as it contains high-quality content, some even taken directly from his courses.
Jason notes that you could read the book and start your own practice with little to no extra help if you have the motivation.
To gain FREE ACCESS to the Audiobook version (which will later be priced at $39), fully narrated by Jason, follow these steps:

After purchasing the book, leave an Amazon Review.
Visit to jasonduprat.com/review, and insert your name and email into the form.
You'll receive a private RSS feed containing the Audiobook broken down chapter by chapter.
TWEETABLE QUOTES:
"As a perfectionist, you're going to be constantly making changes, but at some point, you just have to be okay with getting it out there, and knowing that good is going to be good enough." – Jason A. Duprat

Tweet
"Your reputation can take decades to earn and be completely ruined in just a few seconds. That's not something I'm willing to sacrifice by putting out lazy content." – Jason A. Duprat

Tweet
CONNECT WITH JASON DUPRAT:
LinkedIn | Facebook | Instagram | Youtube | Facebook Group
RESOURCES:
Sign up for one of our free business start-up Masterclasses by heading over to https://healthcareboss.org/masterclass/
Have a healthcare business question? Text me at 386-284-4955, and I'll add you to my contacts. Occasionally, I'll share important announcements and answer your questions as well.
Do you enjoy our podcast? Leave a rating and review: https://lovethepodcast.com/hea
RELATED EPISODES:
#HealthcareEntrepreneurAcademy #healthcare #HealthcareBoss #entrepreneur #entrepreneurship #podcast #businessgrowth #teamgrowth #digitalbusiness