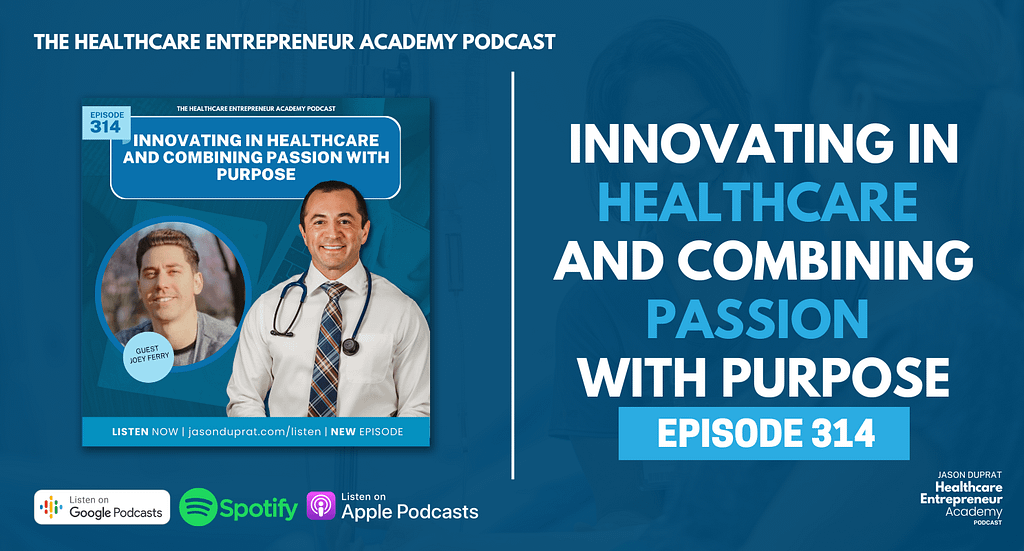 OVERVIEW:
"Fortune favors the bold." – Latin Proverb
Jason A. Duprat, Entrepreneur, Healthcare Practitioner, and Host of the Healthcare Entrepreneur Academy podcast, sits down with Joey Ferry, Nurse Entrepreneur, Co-Founder of Frontier Innovations Inc., and Co-Inventor of the Award-Winning SafeSeizure Pad. In this episode, we hear the story of how two innovative minds came together to revolutionize Healthcare through their Entrepreneurial vision. From the challenges they've overcome to the solutions they create, Joey's innovation paved the path toward their "good fortune."
3 KEY POINTS:
You'll get to where you need to be, but take it one step at a time.

To start a business, know what you're good at and talk to people about that.

Sales expertise boils down to repetition.
EPISODE HIGHLIGHTS:
Joey has a strong passion for entrepreneurship, even as a child.

He once veered away from his Entrepreneurial passion and pursued Nursing for its financial security.

Later, upon meeting his now business partner, Taofiki, he realized he could pursue both Entrepreneurship and Healthcare without sacrificing either.

They discovered they had the same entrepreneurial passion and decided to work together towards a common goal.

Joey creates products for ether two reasons:

Solving a problem and providing convenience, even without much financial gain

Creating a viable and potential business opportunity

When creating prototypes, it doesn't have to be the final product. You simply want to test, feel, and play with it.

Be okay with accepting the solution that might look different than when you first started.

Joey and Taofiki are registered nurses who invented a new way to pad bed rails for patients on seizure precautions in the hospital setting.

They source their materials from Alibaba from a manufacturer who can make the products in their desired dimensions.

Once their business got off the ground, the product's revenue fueled itself.

They once had struggles with their inventory. Fortunately, they won the 2020 Innovation Award and received $50,000, wherein half was directly invested in solving their inventory concerns.

Joey recommends Wave Apps, free software for new businesses for handling invoices, adding various products, adding customers, etc.

Joey recommends upgrading to a paid tool when your business begins to scale.

Sales expertise boils down to repetition. If you're not too experienced in sales yet, you might feel as if you're "bothering" people.

Joey and Taofiki maintain a solid personal connection with their customers by signing emails with their names and including their contact numbers.

To know more about SafeSeizure, visit their website at

https://www.safeseizure.com/

Feel free to connect with Joey Ferry and LinkedIn.
TWEETABLE QUOTES:
"You'll get there, but a lot of folks will give up early because they're looking at Z rather than looking at A, B, and C. Focus on the next couple of steps and don't worry about X, Y, and Z yet." – Joey Ferry

Tweet
"For anybody looking to start a business, know what you know, know where you shine, what you're good at, and where you thrive, and talk to people that want that." – Joey Ferry

Tweet
CONNECT WITH JASON DUPRAT:
LinkedIn | Facebook | Instagram | Youtube | Facebook Group
RESOURCES:
Sign up for one of our free business start-up Masterclasses by heading over to https://healthcareboss.org/masterclass/
Have a healthcare business question? Text me at 386-284-4955, and I'll add you to my contacts. Occasionally, I'll share important announcements and answer your questions as well.
Do you enjoy our podcast? Leave a rating and review: https://lovethepodcast.com/hea
RELATED EPISODES:
#HealthcareEntrepreneurAcademy #healthcare #HealthcareBoss #entrepreneur #entrepreneurship #podcast #businessgrowth #teamgrowth #digitalbusiness