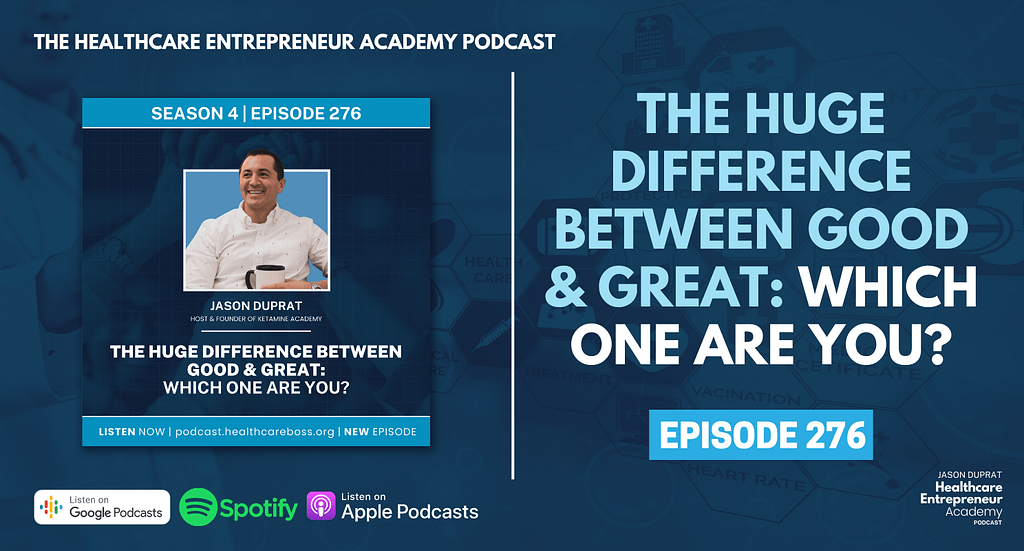 When painting the big picture,
We need to focus on the little details.
Jason A. Duprat, Entrepreneur, Healthcare Practitioner, and Host of the Healthcare Entrepreneur Academy podcast, reveals what sets great businesses apart from the rest. Coming from a restaurant background, Jason shares his views after visiting two restaurants serving the same food, but with drastic differences. Tune into this episode to learn about Jason's crucial advice for growing any business.
3 KEY POINTS:
There's no big secret to growing your business.
Focus on improving all the little details.
Have everyone in the team work together to pinpoint all the details.
EPISODE HIGHLIGHTS:
Jason and his family went to a strip mall version of one of their favorite Hibachi restaurants, wherein the service was subpar compared to the one they usually go to.

The staff wasn't very friendly or welcoming.
The customers didn't immediately get served.
The food wasn't of the freshest quality.
The whole experience was mediocre.

In contrast, Jason and his wife went to their usual favorite restaurant.

The chef was a great entertainer.
The manager ensured everyone's drinks were refilled and orders were put in.
The employees were ensuring plates were cleared.
The entire team was working together.
The service was phenomenal.

In the US, the average business goes out of business after 5 years.
There's no big secret to making your business better.
It's a culmination of all the little details that make your business exceptional.
If you're a visionary who focuses on the big picture, have someone who focuses on the little ones.
On the road to excellence, there are always going to be tiny problems that need fixing.
Look for patterns of recurring problems and fix those first.
TWEETABLE QUOTES:
"Your great vision is a culmination of paying attention to all the little details." – Jason A. Duprat
RELATED EPISODES:
CONNECT WITH JASON DUPRAT
LinkedIn | Facebook | Instagram | Youtube
Email: support@jasonduprat.com
RESOURCES
#HealthcareEntrepreneurAcademy #healthcare #HealthcareBoss #entrepreneur #entrepreneurship #podcast #businessgrowth #teamgrowth #digitalbusiness