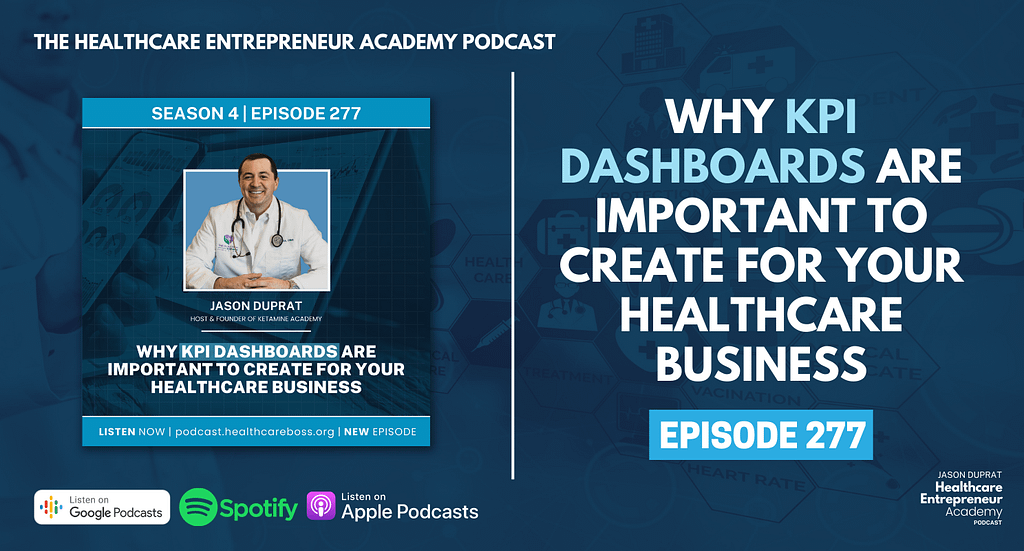 "You can't manage what you can't measure."
– Peter Drucker
Jason A. Duprat, Entrepreneur, Healthcare Practitioner, and Host of the Healthcare Entrepreneur Academy podcast, talks about the importance of dashboards in measuring your business metrics. In this episode, Jason explains different metrics such as KPIs & KRIs and other key takeaways from a business program he enrolled in. Tune in until the end to hear more about an exciting mastermind Jason and his team have been planning about.
3 KEY POINTS:
Identify what metrics you should be tracking.
Create dashboards to measure each metric.
Monitor your metrics for any potential issues.
EPISODE HIGHLIGHTS:
Jason is in a program called the 10,000 Small Businesses Program by Goldman Sachs in conjunction with Babson College.
Metrics are important for your business, your business environment, each department in your business, and life in general.
A dashboard is a board with visual representations to help you keep track of metrics.
Analogy: Inside a car, you have a dashboard measuring Fuel, RPMs, and any indicators for critical issues.
Two metrics you should be tracking:

KPI – Key Performance Indicator: Indicates progress toward an intended result. (Ex. Number of leads generated)
KRI – Key Reportable Indicator: A lagging indicator/the end result. (Ex. Total Sales)

In your dashboard, when you notice the numbers dropping in lead generation (one of your KPIs), you can make the necessary changes.
Monitor each KPI in your dashboard and investigate any potential issues.
Google Data Studio – free software for creating dashboards and connects to various payment systems. Templates can be imported as well.
Other platforms: 9spokes.com, corelytics.com, dasheroo.com, klipfolio.com
TWEETABLE QUOTES:
"Your dashboard shows you the vital signs of your business and helps you diagnose for potential issues." – Jason A. Duprat
"You can't manage what you can't measure." – Peter Drucker
CONNECT WITH JASON DUPRAT
LinkedIn | Facebook | Instagram | Youtube
Email: support@jasonduprat.com
RESOURCES
Are you a high-level entrepreneur looking to connect with other like-minded and experienced business owners? Email me at info@jasonduprat.com to join the mastermind waitlist!
Want to become an IV Nutritional Therapy provider? JOIN our FREE masterclass: https://www.ivtherapyacademy.com/podcast
Have a healthcare business question? Want to request a podcast topic? Text me at 407-972-0084 and I'll add you to my contacts. Occasionally, I'll share important announcements and answer your questions as well. I'm excited to connect with you!
Do you enjoy our podcast? Leave a rating and review: https://lovethepodcast.com/hea
Don't want to miss an episode? Subscribe and follow: https://followthepodcast.com/hea
RELATED EPISODES:
#HealthcareEntrepreneurAcademy #healthcare #HealthcareBoss #entrepreneur #entrepreneurship #podcast #businessgrowth #teamgrowth #digitalbusiness