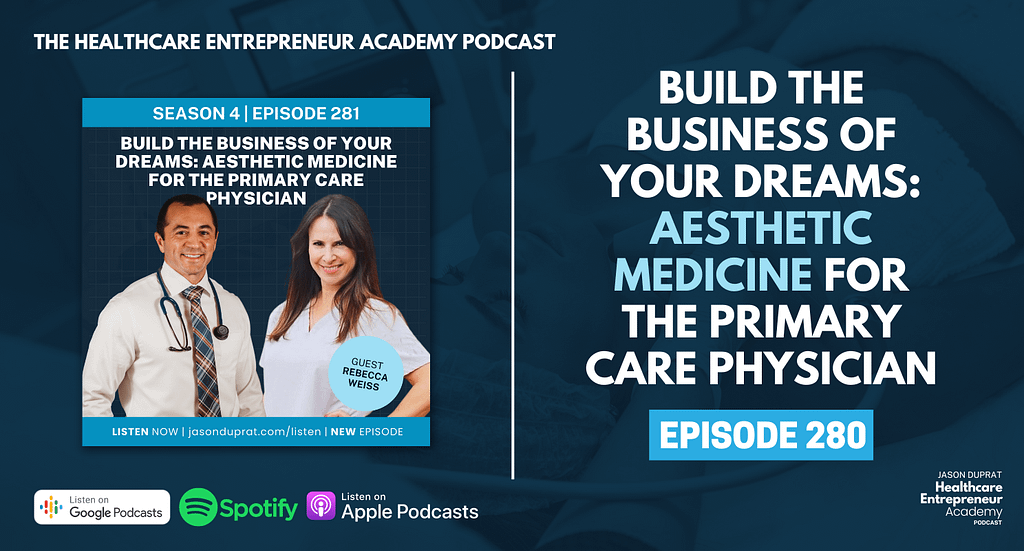 Jason A. Duprat, Entrepreneur, Healthcare Practitioner, and Host of the Healthcare Entrepreneur Academy podcast, sits down with Rebecca Weiss, Co-Owner and Family Medicine Practitioner of Norterra Family Medicine, Co-Owner of Main Street Medical, Owner/Physician of Paradise Medspa and Wellness, and CEO of Tox & Tonix, LLC. In this episode, Rebecca shares practical wisdom from her years of experience, and how her past mistakes helped shape her success today. Tune in to learn about common traps new business owners should look out for and how to avoid them.
3 KEY POINTS:
Don't be married to a brand.
Don't fall for the sales pitch.
Don't go into a career just for the money.
EPISODE HIGHLIGHTS:
Her entrepreneurial journey began when she decided to leave a job she didn't enjoy, was bombarded with clients, and wasn't able to give her clients complete care as much as she wanted.
Based on experience, Rebecca advises watching out for companies that take advantage of practitioners without much business training.
She went bankrupt in 2016 and learned from this ordeal.
She is a strong believer in Primary Care Medicine and later became a co-owner of a Direct Primary Care practice.
As a proponent of Direct Primary Care, she believes in making medicine affordable, getting rid of 3rd-party insurance, and making patients' generic medications cheaper.
Rebecca doesn't buy warranties for her devices. Instead, she pays for any repairs separately, which is more cost-effective in the long run.
She draws the line between employer and employee but doesn't abuse her authority. She ensures that everyone feels valued and is part of the family.
Different people are motivated by different things. Figure out what motivates your employees to ensure a healthy work environment.
Spend money on marketing. Then, once the ball's rolling and your brand is known, you can cut back your costs.
You don't need every device to start your business.
Don't be married to a brand and don't fall for the sales pitch. Always maintain rational decision-making above all else.
TWEETABLE QUOTES:
"Don't be married to a brand and don't fall for the sales pitch." – Rebecca Weiss

Tweet
"Don't go into a career just because you want to make money. Do it because you're truly passionate about it." – Rebecca Weiss

Tweet
CONNECT WITH JASON DUPRAT
LinkedIn | Facebook | Instagram | Youtube
Email: support@jasonduprat.com
ABOUT THE GUEST
Dr. Weiss is a board-certified family physician who practices both primary care and aesthetic medicine in Phoenix, AZ. She has owned a medical spa practice since 2008 and is passionate about the art of aesthetic practice. She is certified in aesthetic injectable treatments including neuromodulators and dermal fillers and also performs PDO thread lifts, laser skincare and body contouring services. Dr. Weiss is passionate about entrepreneurship in medicine and works collaboratively with others to improve the delivery of medical services to local communities.
CONNECT WITH THE GUEST
RESOURCES
Want to become an IV Nutritional Therapy provider? JOIN our FREE masterclass: https://www.ivtherapyacademy.com/podcast
Have a healthcare business question? Want to request a podcast topic? Text me at 407-972-0084 and I'll add you to my contacts. Occasionally, I'll share important announcements and answer your questions as well. I'm excited to connect with you!
Do you enjoy our podcast? Leave a rating and review: https://lovethepodcast.com/hea
Don't want to miss an episode? Subscribe and follow: https://followthepodcast.com/hea
RELATED EPISODES:
#HealthcareEntrepreneurAcademy #healthcare #HealthcareBoss #entrepreneur #entrepreneurship #podcast #businessgrowth #teamgrowth #digitalbusiness