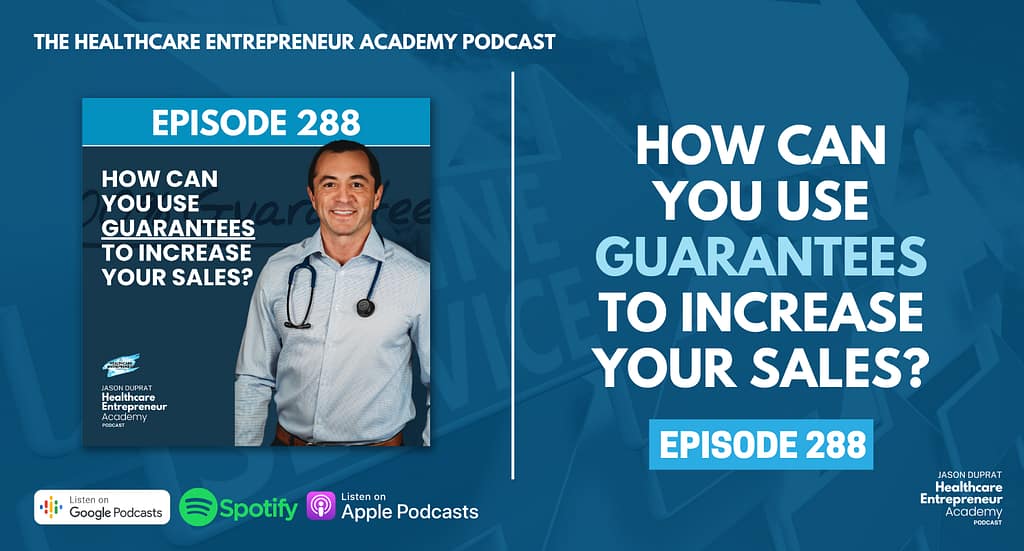 Guarantees are like promises.
They help others feel more assured about your service.
Jason A. Duprat, Entrepreneur, Healthcare Practitioner, and Host of the Healthcare Entrepreneur Academy podcast, talks about leveraging guarantees to boost your sales. In this episode, Jason explains the different types of guarantees and the scenarios where each one can be used. He also shares his personal experience about how guarantees backfired against his business.
3 KEY POINTS:
Unconditional Guarantees are most advantageous for the client.
Conditional Guarantees eliminate risk in the eyes of potential clients.
Anti-Guarantees are for providers with high risk or cost when providing their service.
EPISODE HIGHLIGHTS:
Jason is attending the Level Up Summit put up by a software company and filled with online marketers and online business owners.
Guarantees can be a double-edged sword because some could take advantage of them, which happened to Jason.
3 Common Types of Guarantees:

Unconditional Guarantee – No questions asked, full-refund guarantee. This is most advantageous for the client.
Conditional Guarantee – Comes with certain criteria to meet in order to avail of the refund. This also eliminates the perceived risk in the eyes of a potential customer.
Anti-Guarantee – No refund under any circumstance. This is usually the case when the provider has a lot of risk or a high cost when providing their service.

You can combine guarantees. For example: Until 24 hours, an Unconditional Guarantee is in effect, but will convert to a Conditional Guarantee beyond that point.
When including guarantees, ensure that the total increase in sales outweighs the cost.
TWEETABLE QUOTES:
"By offering guarantees, reports say you could potentially increase your sales by up to 4-6 times." – Jason A. Duprat

Tweet
"The more risk you take off of your clients' plates, the better the sales outcomes will be for you." – Jason A. Duprat

Tweet
CONNECT WITH JASON DUPRAT
LinkedIn | Facebook | Instagram | Youtube
Email: support@jasonduprat.com
Join our Facebook group: https://jasonduprat.com/group
RESOURCES
RELATED EPISODES:
#HealthcareEntrepreneurAcademy #healthcare #HealthcareBoss #entrepreneur #entrepreneurship #podcast #businessgrowth #teamgrowth #digitalbusiness